TRT Innovation Key to Versatile Solutions for McLeod Cranes
12 April 2022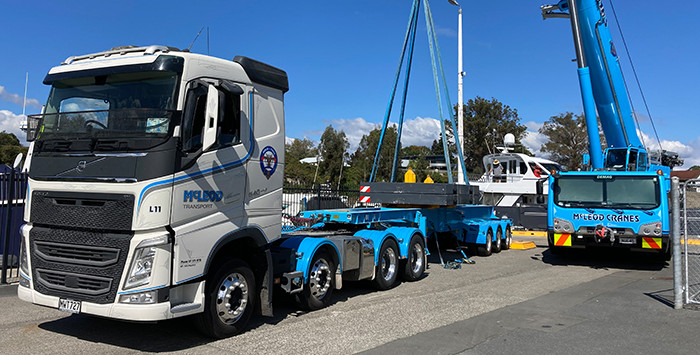 Mt Maunganui-based transportation and lifting services, McLeod Cranes, recently took delivery of their first two TRT Crane Support Trailers, with another two still in build. This is the first series of custom-built crane trailers for McLeod Cranes, designed and manufactured by TRT. All trailers are to support their 300-tonne crane, a DEMAG AC300-6 Crane.
This family-run business has been supplying and specialising in crane, transport, and drilling rig logistic services for over 26 years. With depots based in Mt Maunganui, Hamilton, and Taupo, McLeod's can find themselves servicing predominately anywhere in the North Island, however, they have serviced NZ wide to support their customers with more distant needs.
Scott McLeod, Managing Director, explains how the trailers have provided their team with a versatile solution.
"The first two trailers are working exactly as expected, with everyone in our team extremely impressed. The first trailer has been designed to be the ideal first support for quick and easy crane setup."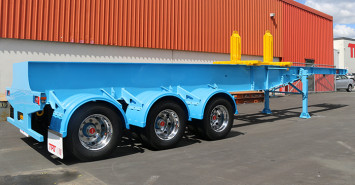 "The second trailer carries 24 tonnes of counterweight. When first delivered it didn't make it back to our yard, it went straight to the job site. We threw the weights straight on, and away she went. I haven't had a chance to see this trailer yet as it hasn't come back to base. It's been following the crane around the country; it is the ultimate crane for pre-cast panels, so it's been a very busy crane trailer ever since we got it. I think we will end up getting a 5th trailer if work continues at this pace."
Trailer one was custom built by TRT to carry the base plate and first counterweight, forklift, additional timbers, single sheave hook, and TRT Crane Pads. The next three trailers feature TRT's Versa-Lock System. Trailer three is fitted out to carry 12 tonnes of counterweight, spreader beams, auxiliary winch when required to get crane weight down, and fly jib. While trailer four is designed to carry the first set of wing weights.
TRT's Versa-Lock System enables easy reconfiguration of the trailer to carry components for any crane make or model in an optimised configuration. The system also enables the positioning of modules on the crane trailer to be moved in 50mm increments, reducing overall downtime and improving transport efficiency.
McLeod confirms, "The TRT Versa-Lock System is a clever innovation that produces a cost-effective solution for carting counterweight and exchanging trailers. If trailer two was clocking up too many kilometres, we could swap it out easily for the less used trailer."
"So effectively by purchasing one trailer with Versa-Lock, this meant we could adjust the purpose of the trailer if we need it for a different crane. That is the exact path we want to head down and as we get more trailers; it enables more flexibility with not just one but three or four trailers."
"In addition to this, we can chop and change their duty based on how hard they are working. Evidently trailers one and two will get a hard life. But three and four may not necessarily always be out. The ability to swap them between different counterweights and different cranes appeals to us as it increases the life of the trailer."
"Previous to this, we would buy second-hand trailers and spend about fifteen thousand making them counterweight trailers. We also found ourselves spending more money each year just to keep them on the road."
"This time around, we took the advice and decided to go with new purpose-built trailers for the problem at hand. When we looked around for a business to provide us with the solution, we didn't need to think twice about it. It was obvious that the TRT Versa-Lock Crane Trailers were proven to be the best."
McLeod choose TRT to manufacture the trailers based on previous good experiences, in particular the strength and quality of the Crane Service Technicians.
McLeod explains, "TRT has some of the best technicians I know. Jordin Hutchinson who did his apprenticeship with us, and Jason Barnes who has been a contractor for us. Plus, we are only an hour and a half away which is fantastic."
"It's not just the knowledge and experience of the people but also the quality of the product that influenced our purchasing decision. Nothing compares to TRT's Versa-Lock System, it uses the latest transport technology."
"I think our first counterweight trailer purchased from TRT was in 2002, which has been used with no issues, it's been the definition of a workhorse. The aftermarket support is exceptional and if there was ever an odd issue or concern that occurred it was always quickly resolved for us. Our relationship with TRT has allowed us to grow the business keeping gear on the road and working."
When we asked McLeod how these trailers had strengthened their services, he said, "Firstly, they make our work more efficient meaning we can be quicker on the ground. Having a trailer that is purpose-built for the crane also creates a more seamless experience for the customer and helps us achieve two of our values, absolute promptness, and operational reliability."
"When we arrive at the job site, we are very professional about what we do. How the trailer is set up is something the customer pays attention to. The speed of set up is now shortened and so is the time spent transitioning from travel mode to the crane mode."
When we asked McLeod what he enjoyed about the service and support provided by TRT he said, "The involvement throughout the whole design process was thorough. We were extensively involved at every stage. I believe TRT presented six or seven different designs that I saw. There were little changes to trailers one and two but once TRT understood our safety philosophy, the trailer designs were exactly as we wanted. Which just demonstrates TRT's commitment to customising the solution to solve the customers' problem."
"The trailers have made a huge difference, it's much safer for the guys and they can counterweight up and down with no need to climb up. This means we eliminate the fall from height hazard through an engineered control. I would also like to note that given the extreme pressures of COVID, TRT still managed to push through and deliver the trailer on time which is awesome."
"Ultimately the service we received from TRT was great. They delivered what they said they would, and the design is what actually arrived."
Learn more about McLeod Cranes here.
For more information about TRT Crane Trailers.