Two Firsts for TIDD Crane
20 April 2022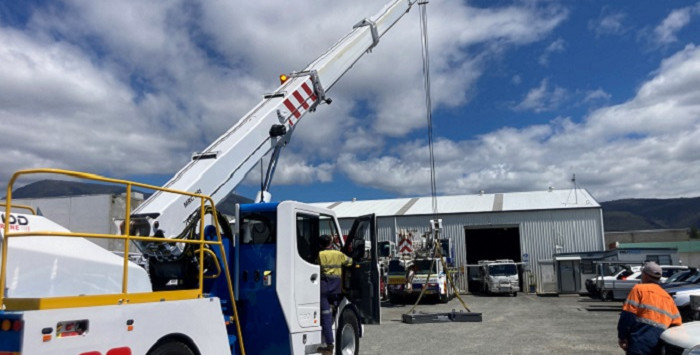 5 minute read - By Cranes and Lifting Magazine
Cranes Combined TIDD; another first for Apple Isle crane hire
Cranes Combined recently took delivery of their first 28t TIDD pick and carry crane. Chris Kolodziej, Managing Director of Cranes Combined talks about the growth of his business, the reasons for the purchase of a new TIDD PC28 and how it has been performing.
Over the last 18 months, we have been adding cranes which have filled niches in our fleet, and we have also replaced a couple of cranes we have been operating for a while.
"We purchased two new city cranes last year and these have enabled us to get onto sites with limited access. They also have great lifting charts, so we are now able to tender for jobs we weren't able to compete for in the past. They are still reasonably sized machines but with the limited tail swing, they are proving to be very versatile cranes for us.
"It is the same with the new TIDD PC 28 pick and carry which is proving to be an excellent all-rounder for us. We were in a position where we needed articulated pick and carry fairly quickly and when I called the Brisbane branch of TRT we were delighted to learn they had a unit being assembled in New Zealand and it was ready to be painted. The timing couldn't have been better for us. After a few weeks of operating the TIDD I am delighted to say it has surprised us with its safety features and overall performance," he said.
Kolodziej confirms this is the first TIDD to be delivered in Tasmania.
"We have always taken an innovative approach to our crane hire business, and we've been the first to introduce a number of new cranes and this is the first TIDD to be delivered in Tasmania. Over the past decade we have grown substantially, from 9 personnel to 42, and purchased around 20 cranes, of which over a dozen have been purchased new.
Some of them have been upgrades and others have been new additions to the fleet. We see the TIDD as being another valuable asset to our business, that is for sure," he said.
Kolodziej explains the reasons for purchasing the TIDD which includes compliance requirements with Tier One construction sites on which the TIDD will be operating.
"Compliance was definitely a factor in our decision making process. We have a relatively long-term project for the crane, so the maths also stacked up. We were also impressed with the TIDD's extra safety features and TRT's ability to deliver almost immediately was a real bonus.
The TIDD PC 28 features are designed to help operators work more efficiently and comfortably on the road or at a work site.
Slew Safe is designed to prevent rollovers. It uses a number of audible alarms, engine control unit warnings and an engine de-rating to prevent further slewing. The system aims to restrict the driver from operating off the chart by using audible and visual alarms and steering restrictions. Slew Safe cannot be overridden but will allow operations to resume when the load is back in the green. TIDD pick and carry cranes aim to maximise safety and minimise risks on the road and on the job.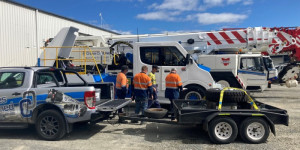 The TIDD PC 28 is powered by a Mercedes Benz DM906 six-cylinder, turbo charged intercooled 205kW diesel engine, a 28t maximum lift on the lug and a 27.6t on the hook block to deliver improved efficiencies and greater lift options. Its 18.64 metres high tensile full power boom features a 75 per cent stationary chart for heavy lifts and a 66 per cent pick and carry chart. The boom's telescopic sections one and two are fully synchronised and provide hook compensation. Telescope section three is independently controlled with its own hydraulic cylinder.
"We've been impressed with the performance of the TIDD. Its roadability is excellent, and it is a very comfortable drive. We've also been impressed with the crane's compact nature. There will always be projects with hard to access areas and the TIDD provides a few extra degrees in articulation which will make a big difference when the tolerances are very tight on site.
"The TIDD increases our versatility as a crane hire business and when it completes the current project it will go into our regular fleet where it will replace one of our older pick and carry cranes," said Kolodziej.
Kolodziej has been impressed with the support received from TRT.
"I have been dealing with Philip White, TRTs Trailer and Crane salesman, he and the entire TRT team have been really supportive. The ability to travel has obviously helped with the delivery process and TRT's technical personnel were here for the hand over. The familiarisation processes they took us through on the TIDD were first rate and they were very thorough, going through the crane and explaining everything. Every time we have called with a question, the TRT team has been really responsive. I can't fault their approach," he said.