2.5 Wide Tri Axle House Trailer
TRT's hydraulic house trailers provide an efficient and safe solution for relocating buildings. They can be raised and lowered, front and rear or leaned to one side, keeping the building level on difficult terrain.
With the split axle design and double acting hydraulics, axles can be lifted independently giving you the flexibility to 'step over' obstacles.
Standard trailers can be lowered to 900mm and raised to 2850mm (depending on axle spacing).
Our SuperLow model will lower to 700mm, raising to 1650mm.
Extendable, with a standard I-beam trombone or TRT's Poly Beam torsional box design, for 40% improvement in stiffness.
Clip-on options available for increased length.
The addition of steering axles increases manoeuvrability with remote control operation.
TRT are able to manufacture to your required deck length. If you're not sure which house trailer is best for your operation - get in touch, we are here to help!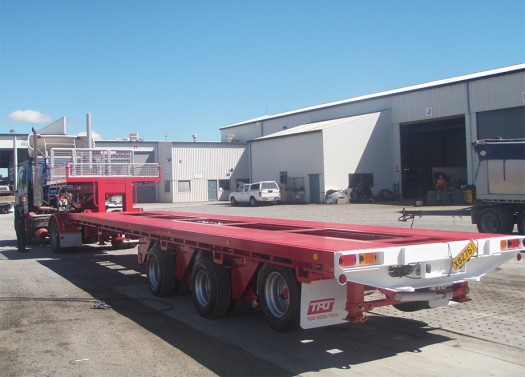 2.5m Wide Tri Axle Hydraulic
Extends form 9.9m closed to 16.3m fully extended.
Lowered height of 900mm, rasied to 1.9m.
All axles lift independently, able to walk over obstacles.
At 2.5m wide with close spaced axles this is a manoeuvrable trailer around Metropolitan roads. This standard width trailer suits a range of Roading Authorities where wider trailers have too mnay restrictions.
2.5m Wide Tri Axle Super Low Hydraulic
Lowers to 700mm, raised to 1650mm
Extends from 12.6m closed to 18.1m fully extended.
Hydraulic operated suspension and gooseneck.
A popular trailer in the state of Victoria where height restrictions can be an issue due to low power lines. Being able to lower the trailer height to 700mm provides the solution with the trailer being able to drive under the building without having to jack the house up too high. Also used for moving house boats and launches.
2.5m Wide Tri Axle Hydraulic with 2 Rear Steer Axles
Extends from 10.1m closed to 16.1m fully extended.
Axles spaced at 2m, lowered height 900mm, raised to 2.2m.
Steering axles provide increased manoeuvrability.
Where site access is challenging a trailer fitted with steering axles can make all the difference. With both steering and axle lift operated by remote control, time on site is reduced resulting in higher productivity for the operator.
2.5 Wide Tri Axle
For advice about the best low loader option for your operation. Use the form below or give Glen a call on 07 849 4839.