Crane Support Trailers
A familiar problem that crane operators face is how all the ancillary equipment can be most efficiently transported to site, especially when the crane is a large 250t mobile crane with 100 plus tonne of counterweight, luffing fly and auxiliary equipment. All of which has to be transported to site before the crane can operate at full capacity.
To meet the specialised requirements of the crane industry, we have developed a range of purpose-built lightweight crane support trailers designed to securely transport counterweights and other crane components to the crane on site, in the right order to be deployed.
A focus of safety features to improve outcomes
Configured to suit specific cranes and operations
Dedicated load restraint mechanisms for counterweights
Covered in decks for load flexibility
Less damage from chains and dogs.
Crane support trailers are designed to suit any number of crane makes and models.
TRT are able to manufacture to suit varied cranes and set up requirements. View the drawings and specifications for each model below.
Tri Axle Counterweight 'Slab" Semi Trailer
Low tare weight of 3800kg
Skeletal design
Easy load/unload with mounting brackets fitted.
Safety platforms and steps fitted
Fabricated using hi tensile steel to ensure a low tare weight to enable payloads of 30t. These trailers are designed with special mounting modules or Bollards to suit the Counterweight 'Slabs', safe and easy load/unload.
Fitted with Disc brake axles and Electronic brake system.
Tri Axle Counterweight 'Wing Weight' Semi Trailer
Low tare weight of 3800kg
Skeletal design
30t payload with Mass Management
Safety platforms and steps fitted
With a low tare weight, payloads up to 30t can be achieved. Special mounting modules to suit the Wing Weights are fitted to the skeletal frame, this ensures the weights are loaded in the same place each time and the trailer weighs out legally.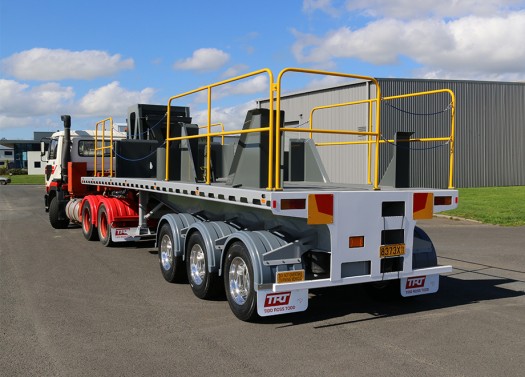 Tri Axle Equipment Semi Trailer
Low tare weight of 5100kg
Decked in for load flexibility
Purpose design mounting modules
Safety designed into trailer
Designed to be the first trailer on site to set up the crane. Usually loaded with Crane Outrigger pads, base plate and hook block. Specifically designed mounting brackets are fitted to the trailer to suit these components, that not only makes load/unload safe and easy, but ensures the trailer weighs out legally.
Drawing for Australia attached, get in touch if you need a NZ drawing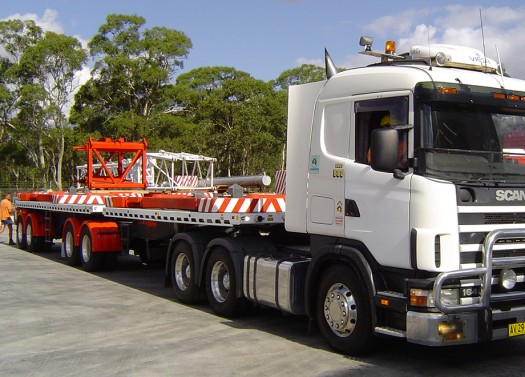 Tandem - B Double
Designed to support a larger crane where a number of counterweights are required on site at once. The trailer is fitted with special Bollards in the deck to locate the counterweight for transportation.
Safe and easy load/unload of weights with access to decks made safer with full handrail system.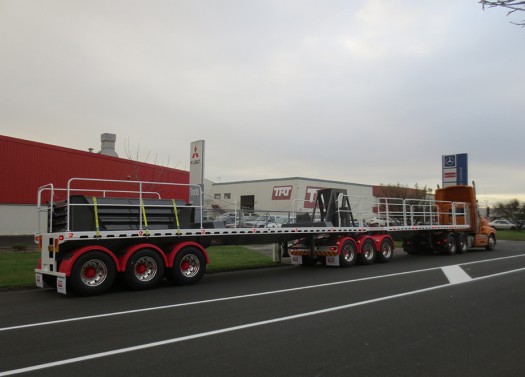 Tri - Double Decked In
These are designed to suit a large mobile crane, to transport to site all its counterweight, luffing fly jib and auxiliary equipment, necessary to operate the crane to its capacity more effectively than a fleet of flat deck semi trailers.
The decks are made safer with non slip surface and full handrail system.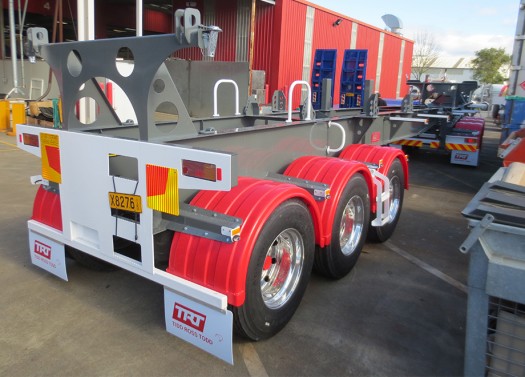 Tri - Double Skeletal
Where access to the deck is not required and tare weight is at a premium, this skeletal design provides the answer in transporting counterweights and ancillary equipment to the crane.
Counterweights are securely locked in specially designed bollards or mounting modules, luffing fly jibs are transported on frames.
Crane Support Trailers
For advice on the best crane support trailer option for your operation, give Glen a call on 07 849 4839 or contact us using the form below.