Features and Specifications
Lift and shift loads up to 25t safely with this articulated and capable workhorse. The TIDD Crane - PC25 has been designed and manufactured by TRT with extensive industry and operator input and is the safest crane in its class.
Slewing up to 42° for max manoeuvrability onsite
New Slew Safe for maximum operation safety
Small 2.5m footprint to move and set up in tight spaces
Side slope and steering articulation de-rating are standard
Ability to road its own counterweight
Superior lift with high tensile steel boom
Load-sensing hydraulic pump for increased function
ROPS for maximum driver safety
The TIDD Crane has the highest main boom tip height in its class at 19.14m. Fitted with a superior Telecylinder that holds 20 tonne and tele's at 17 tonne. It has a manual boom extension rated at 8.5 tonne.
The TIDD Crane is manufactured under ISO 9001: 2015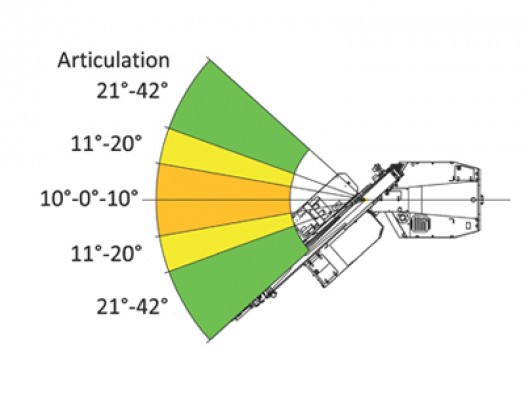 Manouverability
This is a small light manoeuvrable crane, with the smallest footprint in its class
Wheel Base: 4.4m
Width: 2.5m
3 step articulation
42° Slewing combined with a short forward projection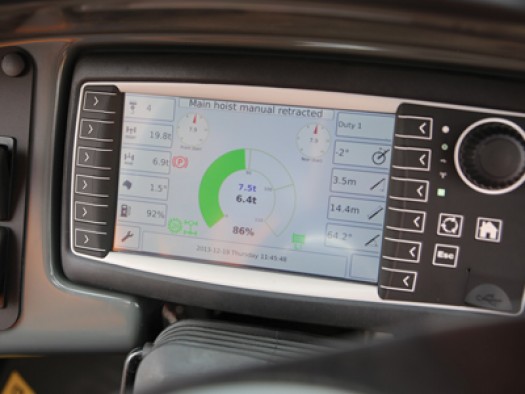 Focus on Safety
Safety is no accident. The TIDD PC25 is designed to provide outstanding performance while providing optimum operator safety both on the road and operating on the job site. The safety features have been designed in consultation with industry where safety is paramount! Safety features include:
New Slew Safe
Robway LMI System
Automatic side slope derating
ROPS (Rollover protection system)
ABS braking system
Power steering
---
"The rollover protection cabin is a significant benefit to all industries, particularly mining. The PC25 finish is like a European Truck. They're really well finished, far superior to most things made in Australia." - Albert Smith, Group Managing Director, Universal Cranes
---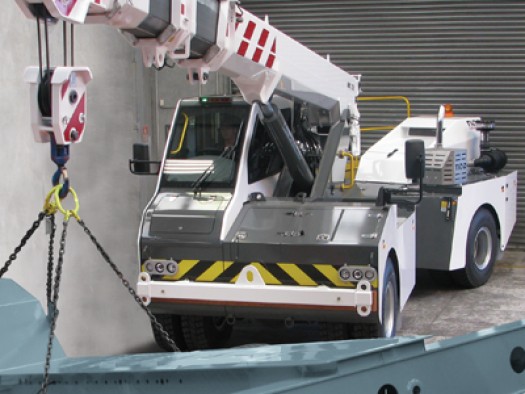 Automatic Side Slope Derating
This serious safety feature is exclusive to TRT's TIDD Crane which allows safer operation on uneven job site surfaces than any other crane in its class!
Automatic side slope and steering articulation derating are standard on the TIDD Crane set at
0° - 10°

11° - 20°

21° - 42°
Please refer to the lifting charts for more information.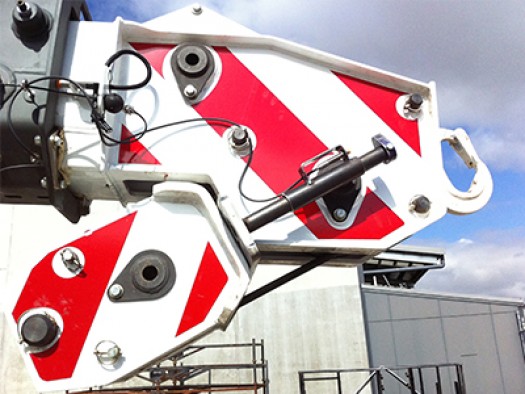 Main Boom
Lift capacity where it's needed.
Highest main boom tip in its class 19.14m
The manual boom extension is rated at 8.5t
Boom luffs from-6° up to 65°
25t capacity
The high-tensile steel boom gives superior strength and a lower COG, allowing it to achieve superior lift charts.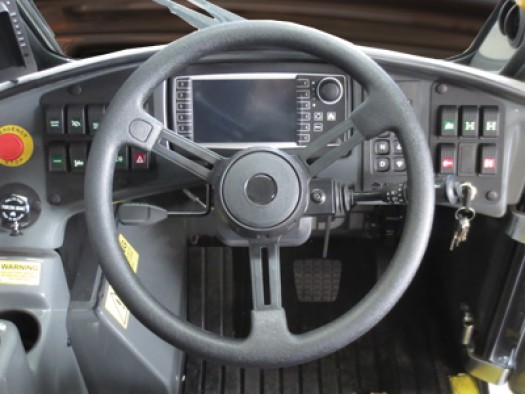 Steering and Suspension
Steering and suspension features include TIDD hydropneumatic front Suspension with lock-out for maximum stability when lifting loads. The 15t rated capacity leaf suspension at rear and superior variable ratio steering system delivers outstanding handling and steering response ON and OFF Highway. Emergency steering back-up pump is driven mechanically from the Cushman transfer case for improved safety. Other features include:
Kessler Hub Reduction Drive Axles
Mechanically driven emergency steering pump operates without electrical power
Front diff lock
Wabco ABS Brakes for improved driver safety
Spare wheel mounted under chassis at rear (no heavy lifting)
Optional automatic tyre pressure control system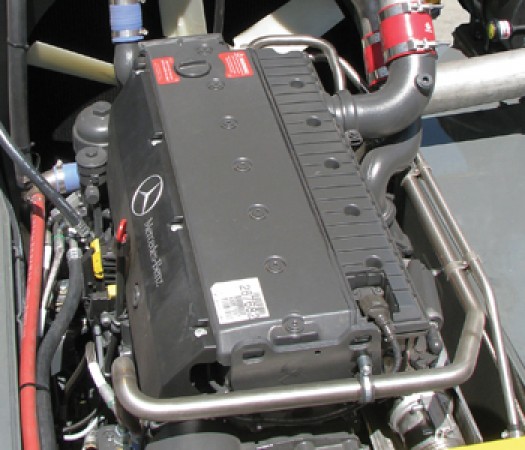 Drivetrain
Drivetrain features include:
Mercedes-Benz OM906 206kW Engine

Allison World Series 3000 Auto Transmission matched to a

Meritor transfer case to optimise driveline angles.
All regular servicing is undertaken from one side with safety rails standard.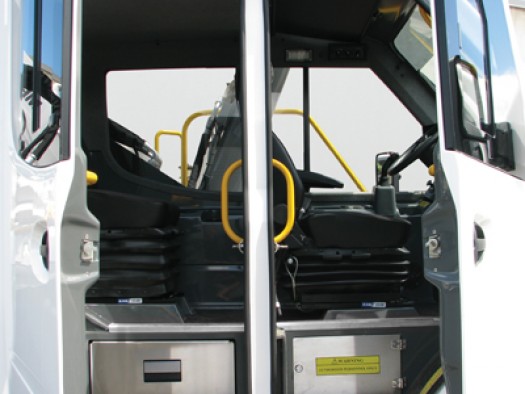 ROPS Cab
The cab features have been specifically designed to enhance capability and driver comfort
Genuine ROPS Cabin
Airconditioning
First in its class to offer the dual door for operator and dogman
Emergency stops in cab
Reversing camera with optional winch rope camera
Cooler drawer (fridge) under seat
Premium air suspension seats with integrated safety belts
Optional sunroof for load visibility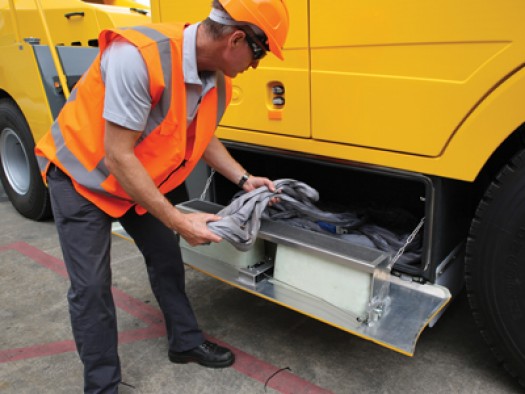 Storage
Designed with the operator and dogman in mind.
Generous storage space
Crane hooks lower rigging directly into lockers
Dry storage for slings and webbing
Full pallet space on left-hand side of the cabin for additional equipment.
Support
We have an extensive support programme in place across NZ and Australia with agents and our own crane and service repair networks and a great warranty programme.
We offer recommended maintenance and service plans
We have a network of authorised repair facilities
We stock a full range of parts for service and repair.
As the OE manufacturer, we guarantee our workmanship
Service
All service requirements should be carried out at an authorised TIDD Crane repair facility due to the technical aspects of the unit. We recommend standard daily and weekly maintenance checks are carried out and a 250-hour maintenance schedule is undertaken.
Contact us if you would like to know more about service and maintenance.
Parts
As an OE manufacturer, we stock all TIDD Crane parts to support our authorised repair network across NZ and Australia.
We only use quality components in the manufacture of the TIDD Crane. These parts and components are also industry standard construction and crane machinery components to ensure the whole of life serviceability of the Crane, offering peace of mind along with all of the operating benefits when you purchase a TIDD Crane.
Warranty
The TIDD crane has a standard warranty offering:
12 month warranty on components
5 year structural warranty
We have an easy to use warranty process, especially as you are able to deal directly with the manufacturer.
Contact us if you would like a copy of the TIDD Crane warranty.
TIDD PC25 Specifications
Call the team on 07 849 4839 or send us a message on the link below to find out more, request a demo or get a quote!