TRT Trailer strengthens and expands opportunities for hire experts
20 January 2022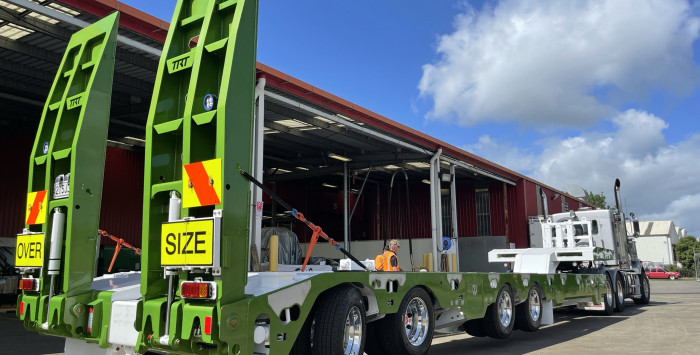 Horotiu Cartage and Hire Ltd (HCH) has added to its fleet, their first TRT Quad Axle Widener. The company which specialises in transportation and equipment hire, visited TRT's Head Office and Manufacturing Facility in Hamilton in December 2021 to collect their new trailer.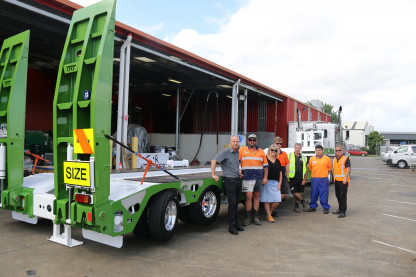 Shane Holland, Company Director says their new Quad Axle Widener would help strengthen and expand their services to transport larger machines and equipment.
"We were basically at max capacity for machine weight and width within the capabilities of our current fleet. This trailer provides us with the extra payload and capacity we need to transport bigger machines for our customers. Our services are always in high demand, adding another trailer to our fleet also means having greater capacity to pick up more projects and customers."
With a tare weight of 13,100kg, this Quad Axle Widener closes to 2.5m and widens to 2.9m, 3.1m, and 3.5m. It is also equipped with a container provision to carry either 1 x 40ft, 2 x 20ft, or 1 x heavy 20ft container. It has a spaced axle group increasing capacity by 5t over the rear axle group. The double-acting hydraulic suspension provides increased stability, also allows each axle to be lifted, and the rear castor steer axle to widen with the trailer.
This trailer is fitted with conveyor belt material on the deck, high-tensile ramps to the top deck, 1420mpa Hardox wear plate on the deck and ramp face, and 2.8m long heavy-duty ramps with a good loading angle.
The trailer also features deep coaming rails with toolboxes set into the sides. It has a demountable headboard and is painted with two-pack, electrostatically applied paint to match the HCH branded colors to ensure it fits in seamlessly with the HCH fleet.
When we asked Shane why he chose TRT to manufacture their trailer he said "The team at TRT are dedicated to customising trailers right down to the finer details to solve the problems that matter to the customers. It's definitely not a "one size fits all" approach. They provide flexible solutions that tailor to the customer's needs."
"I was extremely involved in the process from beginning to end. I worked very closely with Glen and the design team especially on the pedestals for the containers. There was a fair bit of back and forth to get it right. The whole team was amazing to work with and very understanding when we wanted to change specific details to suit our operations."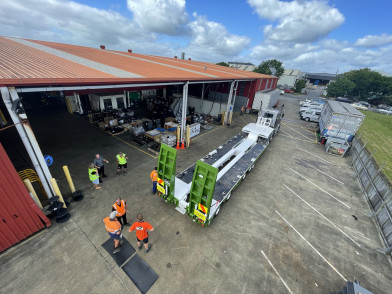 Glen Harnett, Trailer Sales Engineer for TRT NZ, worked closely with Shane on the design and purchase of the trailer.
"Shane's existing trailer wasn't keeping up with the expansion of their business. He contacted TRT to discuss the options for a suitable trailer that would cover majority of the machines they needed to transport. We had just delivered a Quad Axle Widening Low Loader to a customer in Cromwell, and this design appeared to be an excellent solution for Shane. It widened to 3.5m, had a top deck, had extra load capacity with the spaced axle group, increased stability with the hydraulic suspension, and manoeuvrability with the steer axle. It ticked all of the boxes."
"Shane and the team from HCH have an excellent reputation in the heavy haulage market. We are thrilled to have provided them with a solid solution to expand the opportunities within their business."
HCH Ltd commenced as a small family-owned and operated business in 2016 with the utmost emphasis on customer service and satisfaction to now with 15 employees, providing services all over NZ, travelling to the South Island frequently.
HCH has a wide range of modern equipment including diggers, bobcats, excavators, tractors, bottom dumpers, tipper trucks, rollers, augers, trucks, and trailers giving them the capacity and versatility to service a wide range of projects. Their recent projects have included bulk haulage, farm construction work, roading projects to earthworks machinery for residential or commercial projects.
To learn more about HCH's services visit their website here.
Find out more about TRT Quad Axle Wideners here. The TRT range of trailers and low loaders includes deck and axle wideners, swing-wings. It also includes house trailers, forklift trailers, and construction tippers. We are also specialists in crane trailers across New Zealand and Australia. TRT offer comprehensive truck and trailer service, repair and maintenance at our Hamilton truck service centre as well as servicing the wider Waikato with national coverage options.
Photo two: (Pictured from left to right – Bruce Carden (TRT Company Director), Carl Smith (HCH Operator), Heather Holland (HCH Business Owner), Shane Holland (HCH Director/Owner), Mark Holland (HCH Business Owner), Clifford (TRT Workshop Technician), and Glen Harnett (TRT Trailer Sales Engineer).