First radio control mobile crane in Nelson to open doors for new business Adams Crane
6 December 2021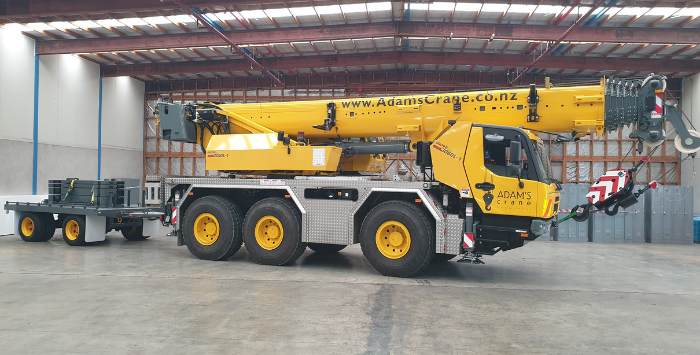 Adam Gausel visited TRT's Head Office in Hamilton in October to take ownership of one of only a few mobile cranes in New Zealand to use radio control, the Grove GMK3060L-1.
Gausel has been working in the crane industry for the greater part of his life building an extensive network of contacts over the years. Starting his career as a machinery operator from truck loader cranes to crawler cranes, shifting into managerial positions. He most recently worked as the Plant Manager for Gibbons directing their crane division.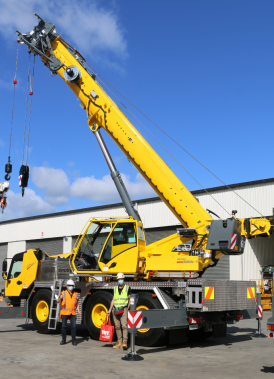 After working and being fascinated by the aptitudes made possible with cranes for over 20 years, combined with his passion for being involved in people's projects, Gausel decided it was time to lift his game with a new business venture in Nelson.
Gausel and his wife Nicola decided they wanted to move into crane ownership to provide mobile crane hire and lift planning solutions with a new machine that outclassed its local competition.
Gausel explains "I thrive on challenges and working with customers on their projects to achieve the result they desire. I get a kick out of being involved in something successful and I like to play my part in it."
"I enjoy being outdoors and living an active life. Crane hire allows me to work outside where my passion can continue to thrive, combined with being able to provide our personal twist on how we want to provide crane hire service."
Gausel reached out to TRT looking for a solution that was suitable for a number of terrains and ideal for working in limited spaces. He was wanting a crane that had powerful lifting capacity but was also a suitable size to tow a trailer for counterweights behind it. The crane needed to be mobile so Gausel could kick start his business independently without having to rely on employing extra staff and a truck to transport the counterweights.
Alongside his lifting solution, Gausel was also looking for a trailer to carry the counterweights behind the crane. It also needed to have the capacity to cart rigging gear from outrigger blocks, spreader beams, hooks along with other lifting-related gear.
When we asked Gausel why he chose TRT to provide the solution he said, "I have been dealing with the crane team from TRT for the last eight to nine years in my previous roles, I like the product, but more importantly I like the product support and service that TRT provides."
Having previously experienced the usability and performance of the Grove GMK3060 All Terrain Crane, Adam was drawn to this crane model for his operations.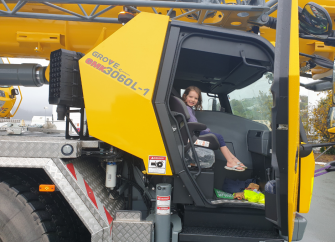 Gausel confirms "I'd purchased a GMK3060 new from TRT with my previous employer, so I knew how they performed, and the size suited the niche in the market where I wanted to position myself. It is also of a size where you can tow a trailer for the counterweights behind the crane. This is important to me because I wanted to minimise the overheads associated with having trucks and employing staff starting in a new business. The radio control function was also a critical feature to allow me to work on my own."
The radio control function removes the dependence of being restrained to the crane itself through cab controls. It means the operator can be near the load to lift, lower, or position it. The major advantages are safety and communication, the operator can choose the best place to see the lift because they can move around the crane to see the lift from every angle.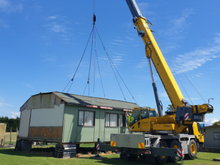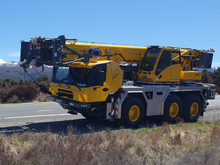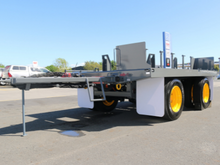 The Grove GMK3060L-1 is a 'state of the art' mobile crane that delivers a powerful lifting performance, superior off-road mobility, and good highway speeds. Featuring a 60t capacity, 48m main boom with 15m fly jib for reach, or 2m runner jib for twin hook rotation. Combined with a seven-section mega form boom with a compact three-axle carrier, offering superb access to job sites with the ability to manoeuvre into tight areas. Combining these benefits with the lower crane running costs, industry-leading reliability, and the new standardised Crane Control System, it was the ideal lifting solution for Gausel's needs.
Dean Mcllroy, TRT's Crane Sale expert worked alongside Gausel throughout the entire process, from the day it left the factory, through shipping, and to the progression of New Zealand compliance.
Gausel explains "Having the counterweight trailer designed and built for me was something I've really valued. We care about the environment and are focused on making our operations as efficient as possible. Not only are we using the latest model crane with a tier 4 engine to minimise fuel consumption, but through innovation and support from TRT we have been able to further reduce our carbon footprint with the cranes own counterweight trailer improving operations and efficiency by reducing cost, resources, and lowering emissions."
The fit-for-purpose counterweight trailer was designed and completed in-house at TRT's manufacturing facility in Hamilton. It was custom built to suit his operations and the crane accessories for it along with two-pack electrostatic paint on the deck and frame for enhanced durability.
As of the 18th of October, Adams Crane was officially open for business and within days of collecting the crane, Adams Crane had his first official job. The GMK3060L-1's first job was lifting a relocated classroom that had been sat on pallets. The original plan was to jack it up and pile underneath it.
However, it was more cost-effective and beneficial to lift the classroom and move it away from the foundations. Saving the builder from having to work underneath the room.
After the piles had been completed, Gausel and the builder lifted the room back on the piles just the two of them in a couple of hours.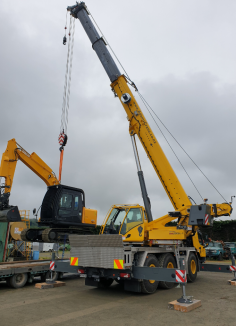 Gausel confirms "We did it just the two of us, no fuss, no dodgy builder hand signals or yelling because I was right there with the radio control. The sun was out, the piles were perfect, the old-timer under the tree watching us thought it was Christmas and it was my name on the side of the crane."
"Being radio controlled, it's not something you see very often, and it challenges how people see mobile cranes. It allows me to work side by side with my clients. It allows better communication and provides freedom to put the operator in the best position to view the lift. I think there is still a place for sitting in the seat but having the option to choose is a marketable point of difference I have over my competition."
Gausel talks about the service associated with his customised solution from TRT "Working alongside a crane salesperson like Dean who backed my decision to go out on my own every step of the way was a high point for me. The team from TRT has shown a real commitment to providing me with a personalised and supportive service."
Read more about Adams Crane new business here.
Read more about the GMK3060L-1 on our website here.