TRT launches all new TIDD PC28-3G
26 October 2023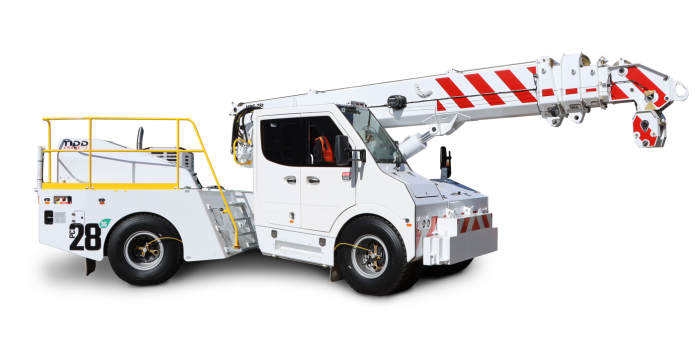 5 minutes read from Cranes & Lifting.
TRT announces the launch of its new TIDD PC28-3G Pick and Carry Crane, driven by a continuous focus on innovation and actively exceeding expectations for customers.
TRT has constructed the TIDD PC28-3G using the highest quality components, prioritising safety and performance throughout its design and class-leading features including the Euro 6 Cummins Engine, the highest emission control diesel engine available with significantly more horsepower. Mike Harrison, TRT's Group Assembly Manager, and Brendan 'Cookie' Cook, Crane Sales for TRT Australia, provide background to the launch and discuss the features and benefits customers can expect to receive from the TIDD PC28-3G.
"This development has been driven by the new Australian Design Rules (ADR), which take effect on July 1st, 2024," Mike said.
"The emissions for mobile pick and carry cranes are going to be updated again and will need to be at least Euro 5 compliant. We are going a step further by releasing the PC28-3G crane with a Cummins engine, which is Euro 6 compliant.
"We have also included several additional features which will ensure the TIDD PC28-3G Pick and Carry Crane is superior in safety, emissions control, capability, comfort, and value."
The PC28-3G is powered by a 6.7-litre 320 horsepower (238kw) inline six Cummins ISB6.7 engine, certified to the world's toughest on-highway diesel emission standard, Euro 6, which achieves near-zero emissions. Cummins designs, develops, and supports every component from the air intake to the exhaust after treatment to work as an integrated system – working to optimise every function.
Features and Benefits
The Cummins ISB6.7 comes equipped with leading-edge technology to provide key operational benefits. This engine delivers exceptional performance with the reliability and durability expected from Cummins. Whatever your application, the ISB6.7 will provide a low-cost operation and maximum uptime.
The superior Cummins Service Network was also a leading driver behind the change from its predecessor – and with 37 branches and 170 authorised dealers across the South Pacific, their support is second to none.
The cleanest truck engine
The ISB6.7 earned its Euro 6 emission rating by integrating in-house design and assembly – allowing Cummins to calibrate the engine and after-treatment system for optimum fuel economy and performance and helping it to satisfy emission standards now and into the future. The emissions are managed by the proven Cummins Aftertreatment System, which has been thoroughly tested and validated under the most extreme conditions.
The Cummins Aftertreatment System from Cummins Emission Solutions is a proprietary system consisting of a Diesel Particulate Filter (DPF) and Selective Catalytic Reduction (SCR) technology for near-zero emissions.
The TIDD PC28-3G also features an Allison transmission with retarder, so it has retardation-style braking capabilities, delivering increased safety and control, lowering operational expenses, and reducing noise in urban areas, according to Mike.
"This is a heavy-duty safety improvement over and above the industry standards for pick and carry cranes. We have seen, again, a massive improvement in the user experience; not only does the new crane handle incline well, but you are also going back down the other side safely because the braking system is far superior," he said.
The 6 Speed Allison Transmission now featuring retarder provides various stages of superior braking severity. It is also expected to reduce operating costs due to a reduction in repairs and maintenance, improving the all-round user experience.
Full power boom
With the 18.65m full power boom, a 75 percent stationary chart for heavy lifts, and a 66 percent pick and carry chart, the TIDD PC28-3G packs a massive punch. Made from high-tensile steel, telescope sections one and two are fully synchronised and provide hook compensation. Telescope sections three and four are independently operated with their own hydraulic cylinder.
Huge capability
With a 28t maximum lift on the lug and 27.6t on the hook block, the TIDD PC28-3G delivers outstanding lifting capacities for improved efficiency and greater lift options, setting a new benchmark in the industry. Moving from the stationary chart to the pick and carry chart is as simple as turning off the hold brake. Operators can now lift more and move more safely without compromise.
With its new powerful front suspension cylinders, the TIDD PC28-3G delivers increasing load capacity by an average of 17 percent more capacity when articulated or working on a side slope. In some comparisons, we have seen an over 40 percent increase in lifting performance. The optional 1.1t Superlift counterweight will increase lift capacity.
Superlift counterweight adds 12 percent
The Superlift counterweight allows operators to lift up to 12 percent heavier loads in both pick and carry and on stationary charts.
When fitted to the base of the 2.3t roadable counterweight, the optional 1.1t Superlift Counterweight simply and effectively increases the capacity of the crane.
1.1t allows transport to the site under 3.5t with a car licence

Operator-friendly loading system using the crane

Proximity sensor, auto-sensing for safety

Fast and easy to set up

Simple to use
Focused on safety
Designed to maximise operational safety, the TIDD PC28-3G will minimise risk on the work site and the road. Safety features include Dynamic LMI with a deadlock switch inside the cabin and an LMI bridging switch outside the cabin. Slew Safe is a critical safety component that is included with all TIDD PC28-3G Cranes.
The innovative safety features of the TIDD Crane, including the LMI bridging switch as standard, enable the TIDD PC28-3G to legitimately operate under EN13000 standards. This also means that the TIDD PC28-3G is the only Pick and Carry Crane in its class with a 75 percent stationary lift chart.
How Slew Safe works
When the crane in operation moves from green and amber to red, there is an overload notification (based on the lifting chart). This will activate Slew Safe. When the crane is operated in the green and amber areas of the lifting chart, Slew Safe will remain inactive.
Activation of Slew Safe
• Reduce the speed of the steering to 15 percent in the unsafe direction.
• Makes steering harder with instant feedback through the steering wheel to the operator.
• The engine will "load up" making an audible sound change for the operator.
• Constant audible alarm inside and outside the cabin to warn the operator and dogman of overload.
• Retains the ability to move back to the safe direction for normal operation in green.
Traction Air – Central Tyre Inflation (CTI) System
Traction Air manages tyre pressure to the standard 130psi on all four front and rear tyres, creating a stable lift platform and improving crane safety.
Incorrect tyre pressure, overinflation, or punctured tyres can put operators at risk.
Constant tyre pressure monitoring with Traction Air allows operators to lift safely, and correctly every time. From a simple to use touch screen in the cab, instant leak and puncture alarms notify the operator of a change, reducing the risk of serious incidents.
There is no need for manual tyre pressure checks on start-up, increasing valuable uptime. No matter the surface temperature, even on bitumen, tyres on TIDD PC28-3G will remain at 130psi.
Based on more than 25 years of product innovation and exclusive to TIDD PC28-3G, Traction Air has a three-year/500,000km warranty*.
Superior roadability
Traveling between sites is effortless with a maximum speed of 80km per hour (speed limited) with reduced ambient noise, and ABS braking for improved safety whether the crane is operating while stationary or at speed.
It is driven by a Cummins Engine Allison Transmission. With its superior suspension, the TIDD PC28-3G is 12 tonne per axle on the road including its 2.3 tonne removable counterweight. No IAPs and no permits in NSW.
The ultimate in comfort
From the ergonomically designed forward-mounted ROPS style cabin, with two-door configuration and ducted air conditioning, to the 150kg rated air suspension seats and three-point safety belts, this crane is designed for comfort over long hours, helping to reduce operator fatigue.
Brendan 'Cookie' Cook has been in the pick and carry crane industry for over 30 years, working for TIDD's closest competitor and being responsible for a large percentage of the cranes sold across the country.
He moved to TRT Australia 12 months ago being impressed with what he has seen.
"What has impressed me most about TRT is their innovative approach to improving the TIDD product, they are constantly working on new designs. For example, they recently upgraded the suspension cylinder with the release of the TIDD PC28-2 which has increased the lifting capacity by an average of 17 percent, and in some cases 40 percent, which is massive," he said.
"The release of the TIDD PC28-3G is a major step forward in my opinion. For many of the Tier One builders, sustainability, low emissions, quieter engines, and continued safe lifting practices are going to be paramount.
"With the new emission standards coming online next year, TRT has taken the initiative by moving to the Cummins Euro 6-compliant engine. It sends a message to the industry that we are always thinking ahead of market demands and it will not be long before all crane operations will need to be cleaner, safer, and sustainable," said Cookie.
According to Cookie, TIDD is gradually changing the industry's opinion on pick and carry cranes.
"We cannot emphasise the importance of our SlewSafe system enough. We recently presented to a significant Tier One company with zero pick-and-carry cranes in their fleet for nearly a decade. They recently purchased two TIDDs due to our safety innovations and service.
"We also delivered a TIDD to McMahon Services in South Australia recently. Initially, there was staunch opposition from some very senior operators, but once they jumped in, drove it down the road, and operated it, the response was "How good is this?" The roadability and new lifting capability of the TIDD are exceptional," he said.
Manufactured for the industry
TRT has been designing and manufacturing heavy equipment, cranes, and trailers for over 56 years. With real expertise in crane design and manufacture, TRT is the home of the TIDD Crane.
Many of the TIDD PC28-3G features are designed based on industry and operator feedback, improving safety, lift control, and capability and drawing on technology and knowledge from not only its own manufacturing ability but also its experienced team. TRT's manufacturing operation is ISO9001-2015 accredited.
Operator familiarisation
TRT has developed an exclusive and comprehensive operator familiarisation program for training operators. The program is designed to suit your schedule and location. Your team is supported by experienced TIDD Crane experts 24/7 with a new comprehensive video that is included with the TIDD Crane. Conditions apply.
Service and Support 24/7
TRT makes upgrading a fleet to include TIDD PC28-3G simple and efficient for all operators and owners. TRT's service and spare parts support, warehouse facilities, and network of experienced dealers throughout Australia and New Zealand are second to none. TRT is committed to supporting operations and uptime, 24/7.
The TIDD PC28-3G will be officially unveiled during the Crane Industry Council of Australia (CICA) National Conference and Exhibition which will be held at the Perth Convention and Exhibition Centre, from October 26th to 28th.
TRT welcomes all to come and see the new PC28-3G – saying it is Cleaner, Stronger, and Safer.