TIDD Crane, the First Choice for New Business Vamp Cranes
9 June 2022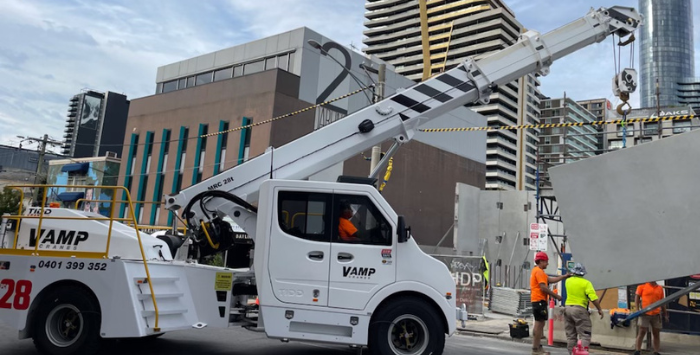 New mobile crane hire and rigging company, Vamp Cranes in Melbourne, Victoria, Australia, recently welcomed its first TIDD Pick and Carry Crane. With their second one being delivered in July 2022. The new TIDD is based at Levenswell road, Moorabbin in Melbourne.
With a 28t huge lift capacity, 18.64-meter-high tensile full power boom, and unparalleled focus on safety, the new TIDD is proving to be the ideal first crane for Vamp Cranes. New business owner, Rosario Giammona (Ross), describes the crane as a versatile, safe, and reliable first choice to kick start their fleet.
Giammona explains, "This is our first dealing with TRT. I've got friends that own a crane hire company, and they have a TIDD in their fleet. One of my friends who is a Diesel Mechanic engaged in a conversation with me about how reliable and safe the machines are. Recapitulating the fact that these were the safest pick and carry cranes in the market."
Giammona has extensive experience and networks in the crane industry.
Giammona confirms, "I've been working in the crane industry for over 15 years and four of those were devoted to construction. I initially learned to operate cranes with a company that used to make concrete panels."
"Before our new business venture, I was managing an entire yard. I can operate mobile cranes, tower cranes, crawler cranes, pick and carry cranes, basically anything with a lifting capacity."
"Since accepting delivery of our first TIDD, it wasn't long before she was on the job site, and we quickly saw the value the crane had for us."
"The crane has been very busy working on different projects from the day it was delivered," says Giammona.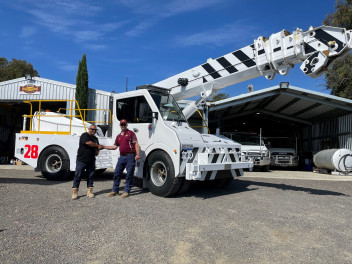 Currently, the TIDD is being used to support a major program of construction work for Ryman Healthcare Villages along with other civil and precast panel duties.
Giammona explains, "The crane has been installing shutters, unloading waterproof semi-trailers, rotating precast panels, and lifting and lowering equipment."
"I was introduced to one of the site supervisors for Ryman Healthcare and we got talking about the TIDD Crane. Conversations started on how awesome it was to see a New Zealand manufactured product on-site for another New Zealand business in Australia."
"Between Ryman Healthcare and some other major civil construction projects, the TIDD Pick and Carry Crane was the ideal lifting solution we needed to gain traction in those areas of the industry."
"The safety focus of the crane in the way in which it mitigates risks to stakeholders and protects staff was a significant factor that influenced our decision. The construction sectors are constantly evaluating their safety on sites, and I believe the TIDD Crane is becoming extensively talked about and more popular due to the safety innovations. Setting new standards in articulated crane expectations."
When we asked Giammona what he enjoyed about the service and support from TRT he said, "Firstly the support from Troy Hand was outstanding and John Mahoney was amazing to deal with. Troy is the type of person that will answer his phone any time of the night. The experience as a whole was really good."
Vamp Cranes is a family business that officially opened its doors to customers in November 2021. Specialising in mobile crane, equipment, operator, and ground staff hire.
Giammona confirms, "We can provide our customers with a mobile crane, an operator, and a ground crew to support their needs with the utmost emphasis on customer contentment."
"I enjoy the industry and I have been working in it for the majority of my career. In the next four to five years, I hope to solidify a strong customer base for the business so I can take a step back from operating the cranes and spend more time with my family."
For more information on the TIDD Pick and Carry Crane click here.