Arrow Transport invest in another Hiab to support local needs
30 May 2022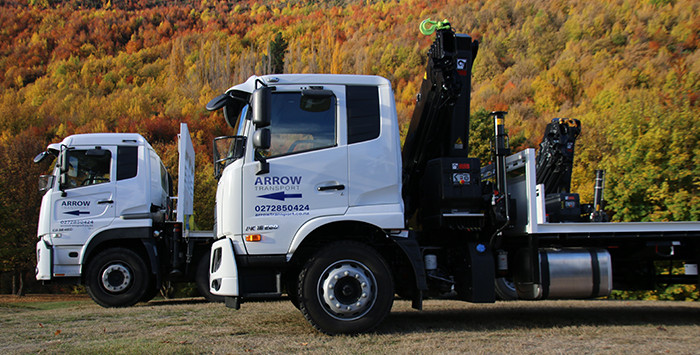 TRT recently supplied Arrow Transport with a new Hiab 188E-6 Hi Duo Crane. Based in Queenstown, Arrow Transport is a locally owned family business specialising in the construction industry providing Hiab services and contract freight in Otago and Southland. Their modern fleet can transport 10 and 20 ft containers, site offices, portable cabins, and building supplies.
Roger and his wife recently took over sole ownership of Arrow Transport. Providing Hiab and transport services with competitive prices to support local businesses being their top priority.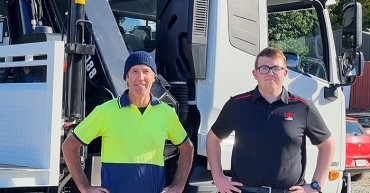 Roger Banks, Operations Manager explains, "We have fantastic support from our local customers and businesses which has been really encouraging. Our continual focus is being able to provide the services they need when they call us. This new Hiab from TRT has been installed on a smaller vehicle, the ideal solution for tight driveways and smaller entrances around this district."
Arrow Transport purchased its first truck in June 2021, both Nissan Trucks were supplied by Commercial Vehicle Centre Ltd (CVC) in Christchurch. Their bigger truck is fitted with a Hiab 298E-6 Hi Duo Crane, installed in July 2021 in Queenstown. This crane has a maximum outreach of 16.1m with a max lifting capacity of 1160kg. This truck loader crane is used for carting trusses, concrete fireplaces, containers, and general building supplies.
This is their second Hiab Truck Loader Crane supplied by TRT. The Hiab 188E-6 Hi Duo Crane has a maximum outreach of 17.4 metres with a max lifting capacity of 590kgs. This new truck loader crane will be used to transport building supplies for local companies. Both units were fitted and installed by C&C Engineering.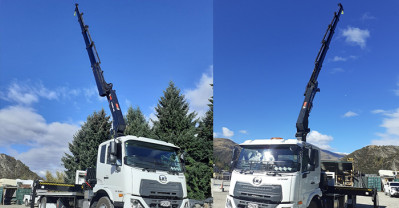 "We decided to go with a slightly smaller crane this time which will allow more flexibility when getting into tricky spots, it still has a good lifting capacity and it meant we can put it on a smaller vehicle," says Roger.
"We have been extremely lucky with the support received from TRT. C&C Engineering has also been great to deal with. Seeing them turn the cab and chassis into a fully working truck loader crane unit was exciting. I didn't have much experience when I started but I was lucky enough to learn how to operate a loader crane from one of the locals with over 30 years of experience."
"We love operating in such a beautiful part of the country. Our goal is to build the business over the next five years to be the local go-to company for everyone's Hiab and transportation needs with a real focus on being family-owned and trusted. Our current customers have been extremely supportive, and we can immediately notice this when we're chatting over the phone with them."
When we asked Arrow Transport what they enjoyed about the service TRT provided Roger said, "The team from TRT were always readily available and eager to find the right solution and showed a real commitment to providing us with a personalised service."
To read more about Arrow Transport you can visit their website here.
Read more about Hiab Cranes from TRT or get in touch with the team today.