New Kobelco for Coastline Crawler Cranes
26 May 2022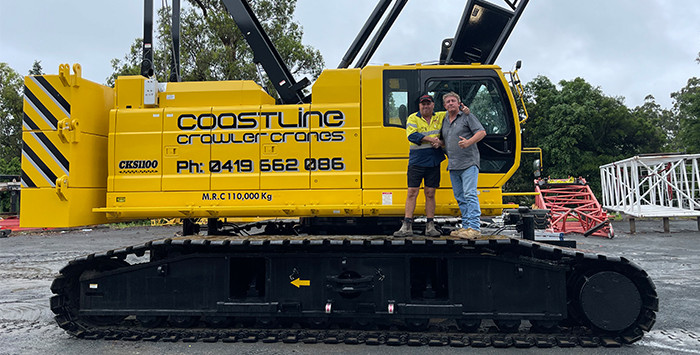 5 minute read - By Cranes and Lifting Magazine
Tilt panel specialist Coastline Crawler Cranes recently took delivery of a new Kobelco CKS1100G, 110t capacity crawler. Owner Kevin Robertson has been around crawlers since he was a little boy. He explains why he is a big fan of the Kobelco range.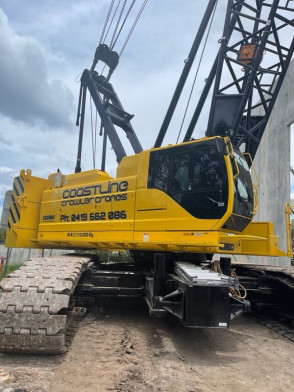 "I've been around cranes since I was five years old. My Father ran his own crane hire business, R&M Crane Services for many years. When I joined the business, 18 years ago, we were operating two crawlers, both were Kobelco with 80t and 70t capacities. I joined the business as the full-time panel rigger back in 2004 and then in 2007 the business was sold to another crane company. I moved to the new crane company as an operator focusing on tilt up panels.
"Then in late 2010, I put a deposit on a brand new 80t Kobelco through the previous Kobelco distributor. And I started the Coastline Crawler Cranes business in 2011 with that new crane. Just recently, I purchased another new Kobelco 110t crawler the CKS1100G from Troy Hand, Crane Sales at TRT Australia," he said.
Coastline Crawler Cranes is a tilt panel lifting specialist says Robertson.
"We have always specialised in panel lifting work and I service many clients across various industry sectors where this type of work is required. The Kobelco crawlers are ideal for lifting panels up to 50 tonnes, but if the project requires a heavier lift, I will dry hire in a larger crane for the project. Recently, I had a machine on a project with a 280t capacity to lift 70t panels.
The work is varied. We can be lifting panels on a construction site one day and the next we'll find ourselves building a barn shed on a large cattle property. Anything to do with lifting concrete panels is what we specialise in and Kobelco Crawlers are ideal for this type of work.
In 2018, Robertson traded in the 80t Kobelco.
"I purchased a M1100 from TRT, which is a 100t capacity Manitowoc. I operated this for 12 months before a customer in New Zealand wanted to purchase it, because it featured free fall winches. I traded that machine in for a late 2019 M12000 model. Then in December of 2021 I took delivery of the new Kobelco CKS1100G.
"We've always purchased Kobelco Crawlers, even the Manitowoc is built in a Kobelco factory. Manitowoc and Kobelco had a manufacturing and distribution agreement up until a couple of years ago and then it stopped. You can't buy this style of Manitowoc anymore. For me, the M12000 and the CKS1100G operate identically, the difference is one is red, the other yellow," he said.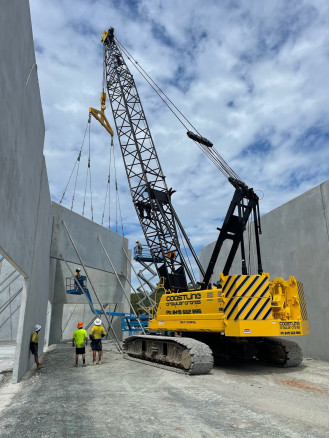 Robertson goes on to explain why the Kobelco crawler has played an integral role in the family crane business over a long period of time.
"You can't fault the Kobelco crawler. They are 'grunty' machines that are not afraid of hard work or difficult conditions. They have zero problems if you know how to operate them properly. The biggest thing with crawlers and the heavy lifters is you have to look after the walking gear to get longevity out of them, and we do this.
"Six months ago, I brought a mate, Clint Holden, into the business. We both learnt the same work ethic from my father, and he then went on to spend 20 years at another crane business. We'd always spoke about working together lifting panels and he resigned six months ago to start with us, which has been a real bonus.
Robertson goes on to discuss his relationship with Troy Hand and the TRT Australia organisation.
"I met Troy many years when Phil Chadwick, a good mate of mine, who worked for TRT at the time made the introduction. Troy is a terrific bloke, he's very nice to deal with and we have become good mates over the years. The support we receive from Troy and his team at TRT is second to none. Everyone in the TRT yard is right behind you and their approach to customer support cannot be faulted," he said.
Robertson confirms the features and benefits he likes with the Kobelco range and particularly the new Kobelco CKS1100G.
"Kobelco cranes feature traditional Japanese design, engineering and manufacturing values. The crawlers are very easy to transport with the assembly and breakdown of the crane being quick and straight forward. It's simple to push the tracks out and it's a crane which is very simple to operate. There are some days where we will be moving from site to site, and we can have the crane operational within an hour of arriving and ready to lift. The Kobelco has 200 hours on it now and it's just a beautiful machine and it is a pleasure to operate it," he said.
A major design advantage for Kobelco with the CKS1100G model is transportability. The crawler has been designed to involve less work when mobilising and demobilising the crane. With more efficient loading and unloading the cost of transporting can be reduced, but the increase in productivity and the speed at which the crane becomes operational is one of the most beneficial features for cost efficient operation.
The self-removal device allows assembly and disassembly of the crawler, carbody weight and counterweight boom without the assistance of another crane. That's a real cost saver.
The CKS1100G features a nested boom that allows the luffing insert jib to be stored in the middle of the boom. Like the self-removal functions, this reduces the number of vehicles and staff required for transport, but its also requires less space for storage.
This new design of the main boom, with increased lifting capacity, makes assembly and disassembly easier too. The upper frame of the CKS1100G is very rigid using quality high tensile steel plate in its construction. The upper frame and body are much lighter than other cranes in the same class, with the reduced width improving accessibility.
The new G Series allows us to address and resolve some of the environmental impacts of our operation. Kobelco has also focused on sustainability and the energy consumed by the CKS1000G. By eliminating needless operations and innovating the engine function, it has allowed Kobelco to reduce fuel consumption and transform systems to enable features that deliver a measurable benefit across the board.
The 110t capacity crawler features a G-Winch, which provides higher speed without increasing engine speed and as a result reducing fuel consumption. The high-speed mode works by allowing the line to be raised or lowered at maximum line speed without raising engine speed without a load, or even lifting with a light load.
The G Engine improves fuel consumption by keeping the engine running within fuel-efficient parameters and limiting maximum engine speed when its not required. Engine speed is reduced but pump capacity is controlled to maintain maximum winch speed for running or lifting. Using this "G-Engine" function, can reduce fuel consumption when compared to operations of a similar crane.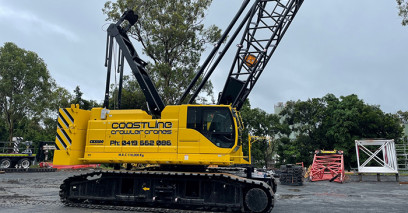 Although diesel engines consume less fuel and emit less CO2 than petrol engines, they also emit more harmful particulate matter and nitrogen oxide (NOx). The "clean energy system" engine of the G-series utilises a diesel particulate filter to reduce particulates.
Kobelco have included Diesel Particulate Active Reduction System or DPR with G-Series, this works by, increasing the particulate collection efficiency of the filters. Simply, this means that the exhaust gas from the diesel engine is cleaner.
Steel wire reinforced glass fibres provides a superfine oil filter in the G-Engine, with excellent dirt capturing capability. What's more, the time between filter changes has been extended up to four times longer than standard expectations, helping to keep maintenance and consumable costs lower. Fewer consumables also reduces scrap waste and the resulting burden on the environment.