New Grove Part of Brisbane City Cranes Expansion Plans
14 July 2022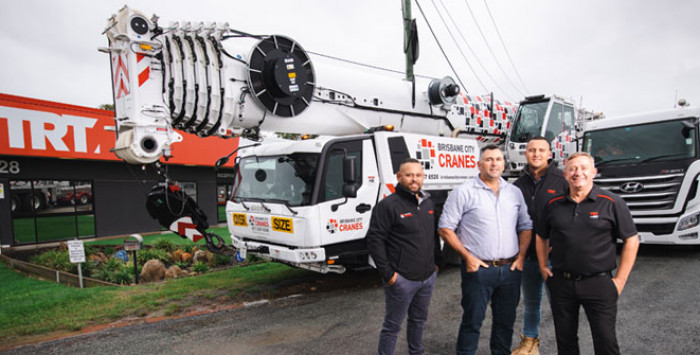 5 minute read - By Cranes and Lifting Magazine
Brisbane City Cranes has expanded its fleet due to the existing demand of its clients in and around Brisbane and South East Queensland.
It has worked closely with the team at TRT on the delivery of the new Grove GMK5150L-1, a specialist TRT crane trailer, and purpose-built TRT outrigger pads. A new TIDD PC28 is also being delivered in July. 12 to 18 months ago, Brisbane City Cranes owners Joe and Sheree Conti sat down to examine the business and work on a business plan.
Joe takes up the story. "We had sat tight with the business for probably three years, and we were operating five cranes including three Liebherr all terrains, a Tadano City Crane and a 25t Franna at the time. We could see there was more work coming from our customers and we also wanted to move into slightly different market sectors.
"Following the review process our first major purchase was the Manitowoc 11000-1. It is a versatile lattice boom crawler crane with a main boom length of 61 metres, a maximum jib length of 18m and it offers a maximum lifting capacity 100 tonnes," said Conti.
"It's powered by a six-cylinder, turbocharged and after-cooled Hino J08E-UV diesel engine and features self-assembly capabilities and button-style wire rope terminations, allowing for quick and easy assembly," he said.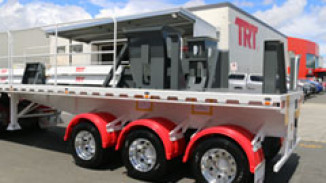 The Manitowoc 11000-1 comes equipped with new energy saving systems. The Green Engine mode conserves fuel during full speed drum operation under load at a lower engine rpm. It has a self-erecting counterweight that eliminates the need for an assist crane and allows for reduced counterweight chart operation. The retractable crawlers can be extended and retracted for better jobsite manoeuvrability.
"We have been wanting to move into the concrete tilt up sector for a while and this crane is ideal for that type of work. We worked closely with Troy Hand and the team at TRT, and we were really pleased with the sales and aftersales support. The crane has been a great asset to our business," said Joe.
When they were assessing the next stages for the business, increased lifting capacity was high on the agenda, as was asset utilisation.
"The business has also been focused on asset utilisation. Any crane business can be busy, but there's a massive difference between 60 per cent and 90 per cent utilisation in terms of a crane's productivity. Asset utilisation was a major reason for purchasing the Grove GMK 5150-1. Now, we can offer the crane as a 150t but also as 130t, 120t, and 100t capacity crane if and when required," he said.
During the recent growth phase of the business Sheree and Joe recognised an opportunity to call upon the experience of Phil Dayman, to assist with safety and safety culture. Phil has also updated the compliance systems by standardising and streamlining our processes.
With Dayman's wealth of experience, knowledge, and proven capability in the industry he has reviewed the company's direction, which includes his ethos of training within and developing existing staff skill sets for maximum utilisation of resources within the business.
Joe and Sheree also recognised the need for a cultural change within the business, to align its employees with the needs, priorities, and growth of the business.
"For the last 12 months, our general manager Billy Sasalu has been very focused on driving changes within. He has worked hard on developing personal responsibility, increased skill levels and a positive 'can do' attitude throughout the team with all operators, riggers, and dogmen, and it has paid massive dividends," said Sheree.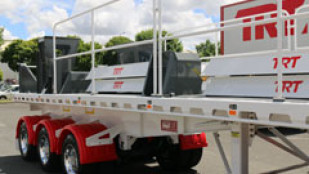 "Brisbane City Cranes has always focused on customer service and satisfaction, is at the core of everything we do. We aim to have the right cranes and skill sets available for the job demands and our customers have come to expect the highest levels of service from our business. Billy's renewed focus on developing the team has made a huge difference as to how we now manage the business.
"The change hasn't been for everyone. We have seen people leave, but they have been replaced with people that have responded to the positive approach we
take to all aspects of our work, and we now have a high functioning team, where morale is high.
"A welcome addition to the business has been Cody Raymond as our operations manager. He's an extremely motivated and passionate young man with a lot of experience in the crane industry. He has introduced new processes and systems, training programs for the younger team members and, with himself and Billy, the business has a very positive vibe about it. Today, I feel very proud to drive into the yard seeing the business prosper," she said.
Considering the largest capacity all terrain in Brisbane City Cranes' fleet was 60t, the Grove GMK5150L-1, with the accompanying crane trailer and outrigger pads is a major step-up, said Joe.
"Yes. We have always been about taking big steps and we have been strategic with this purchase. We figured if we bought a 100t capacity all terrain, the next six months would have seen work above this capacity. When we bought the 60t every job seemed to be for a 100t plus capacity all terrain.
"We went through a process of assessing the GMK5150L-1 and concluded it would still allow us to come back to 100T if need be. Also, the dimensions of the crane are not much greater than a four axle, which allows us to get onto those sites that have really tight tolerances. So, we didn't see an issue buying a five-axle 150t, because it can go out as a five-axle 100t with a footprint not much bigger than a four-axle," he said.
"The purpose designed crane trailer and outrigger pads are terrific. The trailer saves so much time when we get to site. Everything is where it needs to be. We don't have to worry about locking and then unlocking counterweights and we don't need to worry about the weights over the axles. Everything is where it should be, and this has really increased the speed of set up when we get to site. So, the trailer makes everything more productive and safer."
Brisbane City Cranes has worked closely with the team at TRT on the recent purchases and Joe provides some perspective about the relationship with TRT and other crane suppliers.
"Our depot is close to the TRT operation and so it made sense to get our servicing done there. I have known Troy Hand for a long time, and also Neil Webb, it is great to see him back and running the Australian operation.
"Neil's arrival has made a huge difference to the TRT operation, and he has made a number of key appointments, which will bring more momentum to the business. If you don't keep an open mind as to what is available on the market and discuss opportunities with all suppliers you will miss out as a business.
"Talking to the crane OEMs and distributors about your plans and ambitions is important for the business. It provides an opportunity to see what they have available, and we can then make an educated decision on the information we receive," he said.
The purchase of the TIDD PC28 is an example of this process.
"Our pick and carry capabilities were a key element of this recent expansion and we decided the TIDD PC28 was the best crane for us at this time. For Tier One construction sites, safety is the single most important issue and the TIDD pick and carry crane adheres to many site requirements," he said.
There are no concerns about locking and then unlocking counterweights or worries about the weights over the axles, everything is where it should be. The TRT trailer makes everything more productive and also safer.
The TIDD's improved operational features are designed to help operators work more efficiently and comfortably on construction sites and also on the road. Increased lift capacity and greater manoeuvrability, in smaller work areas, are key benefits of the new crane. The TIDD PC28 is constructed using the highest quality components, with safety being a major focus in every element of its design.
Safety features include Dynamic LMI with a deadlock switch inside the cabin and the LMI bridging switch outside the cabin. Slew Safe is a key safety feature on the TIDD PC28. The Slew Safe is designed to prevent rollovers and includes audible alarms and LMI warnings, while power steering is restricted to 15 per cent to prevent further slewing.
"With the latest additions to both the fleet and the management team, we are preparing the business for the next phase of growth. With Billy and Cody now managing the team and 'running the show' so to speak, Sheree and I are in a position to work strategically on the business rather than in in the business," said Joe.
"We are really pleased with our recent Grove purchase and the TRT trailer, and we look forward to the delivery of the TIDD. The Manitowoc crawler has proved to be a terrific addition to the fleet and we are delighted with the service and support we receive from TRT."