New TIDD PC28-2 for McMahon Services
28 September 2023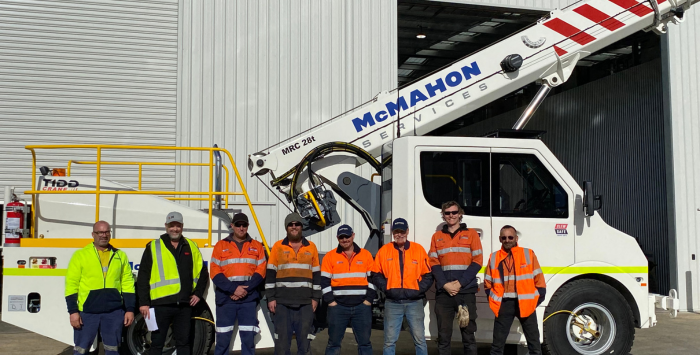 5 minute read from Cranes & Lifting.
McMahon Services recently took delivery of a TIDD PC28-2. Simon Laird-Barrington, McMahon Services' Crane & Rigging Manager, Demolition & Decommissioning discusses the background to the purchase.
McMahon Services is an award-winning civil construction and civil engineering contractor with more than 30 years of experience in delivering quality, innovative, and cost-effective civil projects across a wide variety of sectors.
Simon has a strong background in operations and managing large crane service contracts for major players in the resources sector. Simon moved to Adelaide in March 2022 to take on his current role.
"My responsibilities include taking care of our fleet of 11 cranes, including our new 60t capacity Tadano and TIDD PC28-2. I am also responsible for the day-to-day operations of the cranes out of the Adelaide branch, and I help run our crew across numerous projects. My role also includes assisting the rest of the business with pricing jobs including mitigating high-risk crane activities" he said.
Simon goes on to explain the reasons for purchasing the new cranes and the TIDD in particular.
"Purchasing new cranes is the first step in the process of renewing our aging fleet, with the average age of the cranes in our fleet being around 15 years. Even with major inspections being done the fact is we have older pieces of the plant running around, we can fix all the little things, but when big ticket items start to fail, it is starting to add up in terms of our repair and maintenance costs.
"We did a great deal of research in terms of replacing the cranes, from our slewers down to our pick and carry cranes. We currently operate three Frannas in our fleet and they are all 25t in capacity. We were looking at replacements for these and our first thought was we would go with a new Franna.
"But friends in the industry were talking about the TIDD, they were raising a few different issues around what Tier One builders were prepared to accept with non-slew cranes and what they were not accepting. The TIDD Pick and Carry was highlighted as ticking all the right boxes in the Tier One space," he said.
"We started conversations with RMB Group Services, local distributors of the TIDDs with whom we have a good relationship, and we borrowed the same model TIDD from one of our suppliers who had taken delivery of the crane earlier in the year. We were able to test drive the TIDD in our yard, and we were impressed with its capabilities," said Simon.
Simon goes on to discuss the key features of the TIDD that stood out to him.
"One of the things that sold it for me was the feedback from our operators. They were telling me that the TIDD would warn them when approaching an unsafe situation and pull them up with visual graphic features on the LMI and Slew Safe returning them to safe operation. This feedback came from reputable operators who are known for getting challenging jobs done.
However, we took this feedback from the point of view that TIDD was bringing this newer technology, ahead of its time, and that was catching people out," said Simon.
"We were not sure how the TIDD was going to perform, but borrowing the crane from our supplier, we put it through its paces with a few different loads and configurations. Working the TIDD to its maximum configuration, we had the crane in a position where we were on a side slope in an articulated position and the lifting capability was truly astounding, our drivers have been truly impressed by the crane's capabilities. These cranes are designed for operator safety, and the TIDD performed well above our expectations," he said.
There are four key areas of improvement in the upgraded TIDD PC28-2. It features more powerful front suspension cylinders. This new system offers a greater lift capacity when articulated and working on a side slope, improving lift capacity by an average of 17 percent, and in some cases over 40% greater lifting capacity.
New steps have also been added to improve lift control including adding additional interpellation steps on the TIDD PC28-2 load chart to deliver significant improvement when the crane is articulating.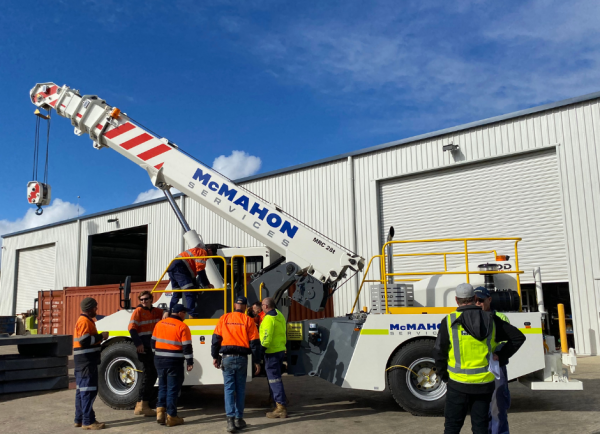 So, for the operator, this means improved control as the crane articulates. The Robway / TIDD crane operating software has been upgraded with improved functionality, to enable faster processing and greater control responsiveness for the TIDD PC28-2 operator.
Simon goes on to discuss the relationship McMahon Services has with RMB Group Services, the TIDD distributor for South Australia.
"We have a strong and close relationship with RMB Services who manage most of the servicing and maintenance on our cranes. In terms of service and support levels, we have had no issues with RMB. So far, our relationship and our interactions with TRT have been positive, if anything, Neil, Cookie, and Troy bombard us with support.
"But the truth will be when we start to have breakdowns and we are trying to get parts, but we are confident TRT will deliver, and we have plenty of confidence that the support will be there. At the end of the day, the TIDD is a new addition to the fleet and because it's different to our current models, we are confident it will provide advanced capabilities with jobs we undertake.
"One of the major selling points for McMahon Services is that we have a very diverse range of equipment enabling us to take on pretty much any type of task, even tasks that some other businesses would walk away from," he said.