New TIDD for Francrane
20 December 2022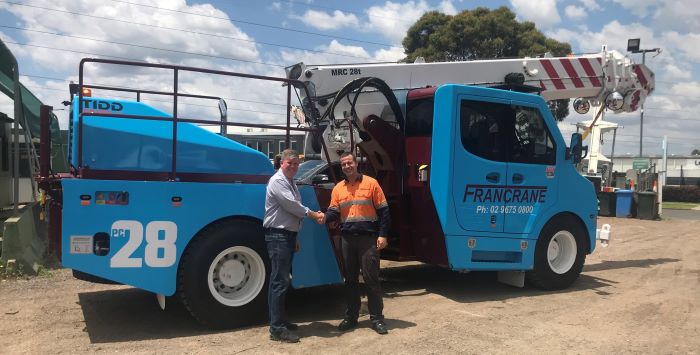 5 minute read from Cranes and Lifting Magazine
Western Sydney pick and carry hire specialist Francrane recently took delivery of a TIDD PC28 pick and carry. This is the second TIDD to supplied by The Baden Davis Crane Connection and TRT.
Starting in 1989, Francrane remains a family-owned crane hire business owned by Managing Director Brenton Owst-Atkinson. Brenton was working for Walter Wright as a driver/operator and eventually found himself working in the office. When Walter Wright closed down, Brenton saw an opportunity to immediately pick up the work which had been left behind. He hired two cranes out of Brisbane and the rest, as they say, is history.
Today, Francrane operates from its own yard own in Mt Druitt, a suburb in western Sydney.
The profile of a typical Francrane client varies greatly and includes anyone who needs to install, move, relocate or remove machinery, but the capabilities of the business are not limited to this, it has the capabilities to lift and shift anything. Francrane also utilises its partner network to be able to offer customers any size of crane in Sydney or nationwide.
"With the addition of the new TIDD PC28 we now have five pick and carries in the fleet with lifting capacities ranging from 10t to 28t. We also operate two Crane Trucks, plus a range of forklifts with jib with capacities ranging from 3t to 12t. These are supported by semis with a range of trailers," said Brenton.
The work conducted by Francrane doesn't influence the make-up of the fleet says Brenton.
"Like our team, the fleet is versatile and we work closely with our clients to provide them with the best available service which hopefully ensures they continue to use us enabling continued investment in the fleet. This in turn ensures the fleet remains contemporary with the with assets fully utilised," he said.
Brenton goes on to discuss the reasons for purchasing the new TIDD PC28.
"We have been very impressed with the performance of the TIDD we already have in the fleet. It has proved to be a solid machine, made to a high specification in New Zealand and it has proven itself with us at Francrane. The TIDD has proved to a fortunate addition to the fleet, and it has performed well. It also travels on the road well and suits our type of work. We can't fault it," he said.
The TIDD PC28 features improved operational features designed to help operators work more efficiently and comfortably on construction sites and also on the road. Increased lift capacity and greater manoeuvrability, in smaller work areas, are key benefits of the new crane. The TIDD PC28 is constructed using the highest quality components with safety a major focus with every element of its design.
Safety features include Dynamic LMI with a deadlock switch inside the cabin and the LMI bridging switch outside the cabin. Slew Safe is a key safety feature on the TIDD PC28.
TRT has developed a significant safety feature called Slew Safe. It is designed to prevent rollovers and works with a number of features including audible alarms, LMI warnings and power steering is restricted to 15 per cent to prevent further slewing.
The TIDD PC28 is the only pick and carry crane with this level of safety and Slew Safe can be retro fitted to all existing TIDD PC25s.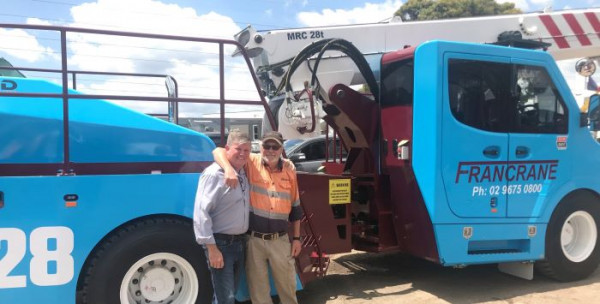 Slew Safe is an effective system to restrict the driver from operating off the chart. With audible and visual alarms along with steering restriction in the unsafe direction when overloaded. Slew Safe cannot be over-ridden but will operate normally in the safe direction.
The TIDD PC28 has also been designed with operator comfort in mind.
The ergonomically designed forward mounted ROPS cabin, with two-door configuration and ducted air conditioning, with the 150kg rated air suspension seats and 3-point safety belts, means comfort over long hours, helping to reduce operator fatigue.
Many of the key features are designed on industry feedback and include:
European standard automotive finish
Shortest forward projection in its class
The TIDD PC28 features improved operational features designed to help operators work more efficiently and comfortably on construction sites and also on the road.
An outstanding turning radius, articulating 44° either side
2.3t roadable, front and rear counterweight
Mercedes Benz DM906 six-cylinder, turbo charged intercooled 205kW diesel engine
6.12-18.64 high steel boom tensile with four telescopic sections
28t capacity on fixed tug (stationary) 27.6t capacity on running rope
Allison 3000 series automatic transmission, 6 speeds forward
Kessler high-speed planetary axles with diff lock on front axle
Meritor transfer case
Two stage engine and exhaust brake
410l tank with locking cap
Automatically activated emergency hydraulic steering
Duel line airbrakes on all wheels with ABS
Pneumatically released spring applied emergency/park brake on all wheels
The new 18.64m high tensile full power boom features a 75 per cent stationary chart for the heavy lifts and 66 per cent pick and carry chart. The boom's telescope Sections 1 and 2 are fully synchronised and provide hook compensation. Telescope Section 3 is independently operated with its own hydraulic cylinder.
The TIDD PC28 features a 28t maximum lift on the lug and 27.6t on the hook block, delivering lifting capacities for improved efficiency and greater lift options and setting a new benchmark in the industry. Moving from the stationary chart to the pick and carry chart is as simple as turning off the hold brake.
Brenton explains more about the relationship Francrane and The Baden Davis Crane Connection and the performance of the TIDD.
"The Crane Connection is our local supplier and Anthony and Ben are there for anything we require. They are very customer focused and willing to help if we are every in a bind. The back up support from The Crane Connection and also TRT has been 100 per cent," he said.
"The operators like the TIDD because it does exactly what they ask it to do. This seems to be the most common response from all of our operators," said Brenton.
Background to Francrane
The Francrane team includes Brenton (Director), Ari (Office Manager), Glenn (Operator), Brayden (Operator), Shane (Operator), Thomas (Mechanic & Operator), Jacob (Operator) and can't forget Milo (Yard Dog). Collectively, the team has over 100 plus years of experience in the crane and transport Industry.
The Franecrane fleet is equipped with soft slings, several sizes and lengths of chains, spreader bars and rolling bars to cover the most demanding of site requirements.
Francrane's operators are specialsits in their field and proactively assist clients to obtain the best possible outcomes. In addition to lifting they are well qualified to handle all types of rolling, skating and jacking jobs.
"We don't shy away from helping anyone and never have. We work closely with our customers and have been here since 1989. We put a large emphasis on ensuring all customers get a supreme service and 'we do what others don't'," said Brenton.
Francane is one of several Australian operators to take delivery of TIDD PC28s in recent months. Others include Walz Group in Queensland who purchased two, and Tutt Bryant Heavy Lift & Shift in the Hunter region who purchased three.