The Added Safety and Extra Capacity Sees Walz Group Turn to the TIDD PC28 Twice
6 December 2022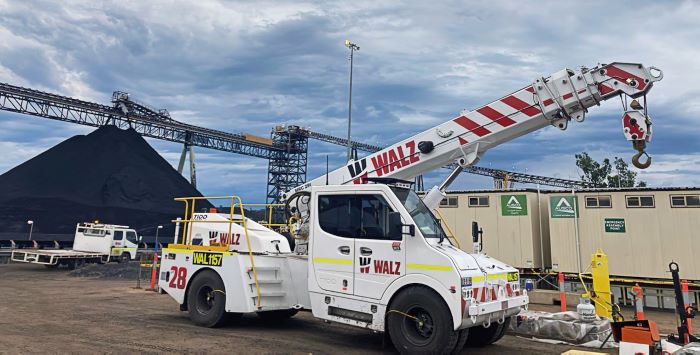 5 minute read from Cranes and Lifting Magazine
The Walz Group have developed quickly from its original humble beginnings in 1976 when it was started by Colin and Desley Walz. The company remains privately owned and is now running over 30 cranes itself, serving a range of clients across Queensland.
CEO Matthew Campiutti explains the need the company had to run its own crane fleet and what the fleet is comprised of.
"I would say we have a large fleet of construction equipment including our cranes considering we are a construction contractor. We have more than 30 cranes ourselves ranging from Franna's all the way up to a 400-tonne crawler crane," Campiutti said.
"By running and maintaining our own fleet it gives us a lot more flexibility and helps us with the tendering process as we know exactly what gear we have access to and exactly what it is capable of.
"We are running Franna's, a number of hydraulic cranes, rough terrains, crawler cranes and a couple of truck mounted cranes and obviously we have recently brought the two Tidd's on board," Campiutti said.
"We were originally introduced to the Tidd PC28 by TRT after we had bought a few cranes through them and we went to them enquiring about another pick and carry option. We were drawn to the Tidd's as they had extra capacity when compared to others on the market, which was a real plus," Campiutti said.
Safety features include Dynamic LMI with a deadlock switch inside the cabin and the LMI bridging switch outside the cabin. Slew Safe is a key safety feature on the TIDD PC28.
The PC28 comes with Slew safe which gives the operator maximum control and security while lifting and moving. The Slew safe system reduces steering speed down to 15 per cent in the unsafe direction and 100 per cent steering speed in the safe direction with an override alarm audible in and outside the cab.
Campiutti explains what the Walz group did to maximise the safety of the machine for its specific use.
"Another safety feature we have on our PC28 is the ability to have the tire pressure closely monitored and re-inflated quickly to maximise safety. It gives us that strong stability you want when operating a pick and carry, that was an add on we thought would maximise the safety of this machine," Campiutti said.
The PC28 comes in at only 2.5 metres wide and only 12 tonne per axle with a turning circle of 14.9 metres making it extremely roadable and allowing it to fit well into any tight spaces.
The engine is a Mercedes Benz DM906 six-cylinder, turbo charged, intercooled engine producing 205 kilowatts. Coming with a six-speed transmission, the top speed of the Tidd is an impressive 80 km/h.
The new 18.64m high tensile full power boom features a 75 per cent stationary chart for the heavy lifts and 66 per cent pick and carry chart. The boom's telescope Sections 1 and 2 are fully synchronised and provide hook compensation. Telescope Section 3 is independently operated with its own hydraulic cylinder.
For the team at Walz group they have been so impressed by the PC28 they recently took delivery of its second machine only five months after the first arrived as Campiutti explains.
"We knew we could trust TRT when purchasing the original Tidd but the guys using it have been so impressed and the features it comes with that we recently took delivery of our second and it has been put straight to work," Campiutti said.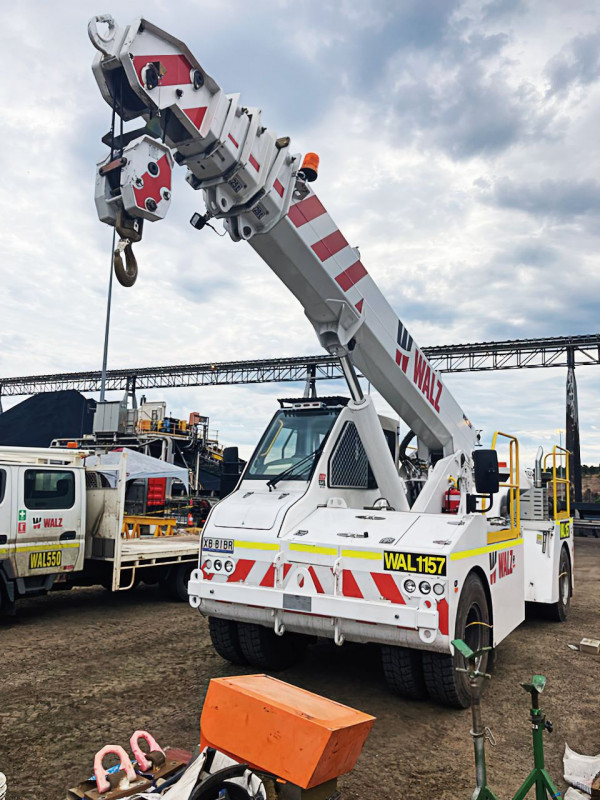 Duncan Begg is the equipment manager at Walz group, and he has seen firsthand the benefit of the PC28 on site
"We have had the Tidd's out on site working on the reject conveyor upgrade in the Bowen Basin completing general pick and carry tasks, used as a tailing crane and also on rolling structures.
"One of our operators that has been operating cranes for over 25 years has been impressed by how well the cabin is appointed, its drive and suspension, its easy-to-use controls and how tight the turning circle is.
"The crane is so simple to use and so comfortable he is finding it an absolute breeze to get around on site," Begg said.
The operator's cab is an ergonomic twoperson cab mounted on the right side of the chassis with a double door configuration. The cab is fitted with safety glass throughout and comes with 150-kilogram rated seats with air suspension.
"Tory Hand and everyone over TRT are excellent to deal with, they take us through the initial training and are always easy to access to troubleshoot any issues we come up with whilst using the machine," Campiutti said.
"This is why we went with these Tidd's, we knew what we were going to get with TRT and the quality of service they provide, this is the benefit of going with them.
"TRT are very big on the safety of the cranes they send to market and the married up well with us and we were able to add even a few extra features we thought we be of benefit to the work we complete and even that was a simple task and they were more than happy to complete those add ons" Campiutti said.
Walz group work across Queensland for a range of clients including for BHP and Rio Tinto with much of the preparation for lifts completed in house as Duncan Begg explains.
"We do all of our own lift studies in house with our engineers and they work closely with our operations teams. The lifts are fully calculated in house utilising a variety of programs depending on what is the crane that is being used," Begg said.