Kobelco crawler a great experience for Sydney foundation specialist
9 September 2022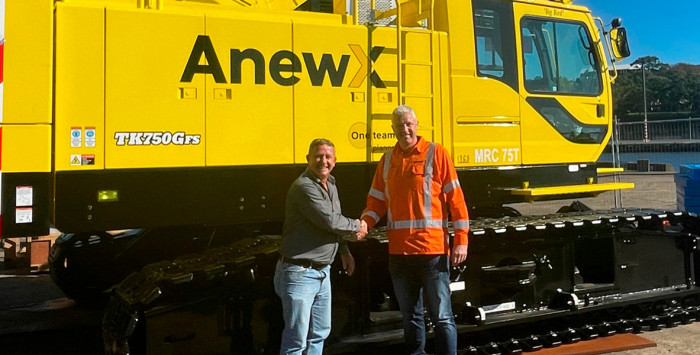 5 minute read - By Cranes and Lifting Magazine
AnewX, a specialist in complex urban civils and foundations, recently took delivery of Kobelco TK750GFS telescopic crawler.
The crawler has slotted into the business perfectly and AnewX owners, general manager Eddie Shanley and operations manager Jack Longstaff, are delighted with its performance.
Shanley arrived in Australia in 1997 and he has been working in the piling and construction industries ever since. He met Longstaff when both worked for another organisation, and they started AnewX in 2017.
"We could see a massive pipeline of infrastructure projects coming and many of these presented an opportunity for a specialised piling and civil foundation business," he said.
"As Sydney was becoming increasingly congested, we thought the niche in the market to explore would be the smaller projects with smaller piling rigs and, so, we headed down that track," said Shanley.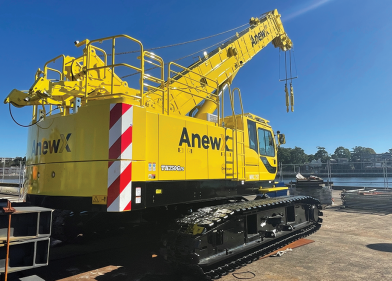 AnewX has grown significantly since these early plans and now operates seven piling rigs, two excavators, a concrete pump, and the Kobelco TK750GFS telescopic crawler. AnewX is an interesting name for the business and Shanley provides the story as to where it came from.
"We decided we didn't want to 'pigeonhole' ourselves as a foundation piling company, as we could see there would be work for our machines in the civil sector as well, providing us with a far broader scope to work within.
"For us, the company name AnewX means a new excellence and a new experience. That's the thinking behind the name and our customers have responded very positively to the approach we take with our projects," said Shanley.
He then goes on to discuss the reason for purchasing a telescopic crawler and why AnewX decided on the new Kobelco TK750GFS purchased through TRT Australia.
"Up until now, we have been hiring in external cranes on a number our piling and civil projects. We took at close look at the projects we could see coming and it became apparent there was going to be a lot of work.
"Because of the amount of work, we could also see there might be a risk that our regular suppliers might not be able to hire us the cranes as they traditionally have. Last September we made the decision to purchase a crane and we took a look at what was available," said Shanley.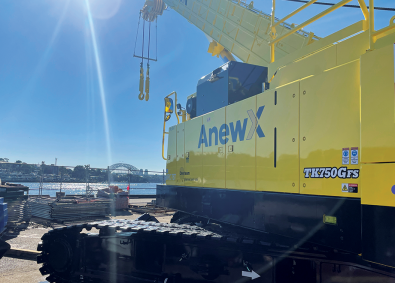 Typically, when a crane is required for a project, AnewX will hire smaller 40t to 50t capacity cranes. Shanley explains why they've gone for a much larger capacity crane.
"With the amount of large projects coming online we decided a smaller capacity crane might be limiting. A larger capacity crane would enable us to look at a broader scope of works, including larger civil projects where bigger lifts are required," he said.
"A key reason for the selecting the Kobelco is the robust nature of the crane. We use vibratory hammers and other hydraulic attachments on our projects and we know the Kobelco is designed and engineered to cope with this type of application.
"In our experience, other brands of telescopic crawlers simply don't cope. Ultimately, we decided the Kobelco offered the business a broader scope in terms of the work it would be able to undertake," he said.
The Kobelco TK750FS 75t capacity crawler is equipped with a Daimler 235kW diesel engine to provide the rugged power for the piling, foundation, and civil work.
The TK750FS has 208kN maximum line pull and 107.9kN-rated line pull on the main, auxiliary and third winch, and an operating weight of 74.8t. It also has 153kN maximum line pull and 68.7kN-rated line pull on the main and auxiliary winch, and an operating weight of 69.2 tonnes.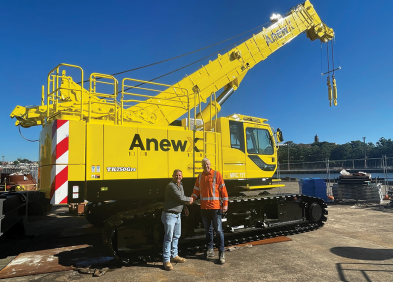 The telescopic crawler features a maximum lifting capacity of 75t at 3m and a telescopic boom length of 10m to 30.1m with a main hook maximum height of 30.4m.
The telescopic crawler cranes of the Kobelco TK750 Series combine the lifting power and high stability of crawler crane models with the excellent performance of an automatic boom extender/retractor.
AnewX worked with Troy Hand from TRT Australia during the sales process.
"We didn't know Troy leading into the sales process, but we did know the Kobelco brand, and we've seen plenty of Kobelco crawlers out on sites. We know the brand has a long history with cranes and earthmoving equipment in Australia," said Shanley.
"We spoke to Troy, and he was very professional throughout the sales process. He was also reassuring about the product and he confirmed the service and support TRT Australia would be providing in terms of aftersales. And he was right, the service has been excellent," he said.
AnewX took delivery of the Kobelco TK750GFS in March. Troy and his team flew down from Brisbane and, with the AnewX operators and supervisors, the crane was commissioned. The crane has completed a number of projects, including major infrastructure work in the CBD.
"It's been used to lift 8t cages, big 1,250mm diameter casings, it has been operating vibrators, and generally supporting our piling operations," said Shanley.
"The performance has been brilliant and we are really impressed with the crane. The operators love the crane, they find it very user very friendly, it has a spacious cabin within which, everything is well laid out.
"The Kobelco TK750GFS is also very quick to set up and also quick to demobilise. When you get to site you can be set up and ready to lift within an hour.
"When you look at the design of the crane, it is quite apparent it is the result of traditional Japanese design, engineering, and manufacturing qualities.
"A key feature for us is the robust nature of the boom – the hydraulic rams are significantly larger and stronger compared to other cranes. In our opinion, the Kobelco TK750GFS telescopic crawler is bigger, stronger, and more robust than others in the same class," said Shanley.
For more information on KOBELCO visit our website: https://bit.ly/38fGYPv