High Tech, Low Ride
18 July 2023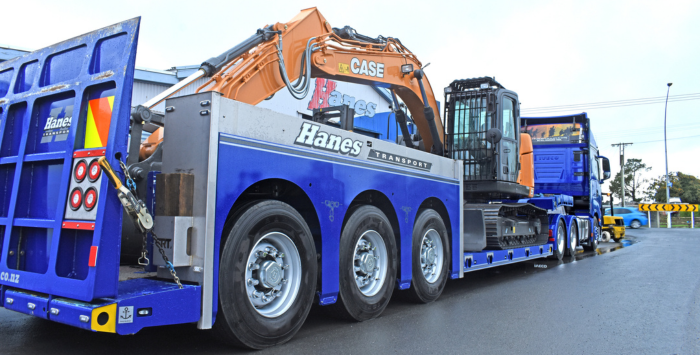 5 minute read from Truck & Driver Magazine
Story by: Colin Smith
Photo Credit: Gerald Shacklock
An innovative Kiwi trailer design has found a European workmate in one of the first new generation Iveco S-Way models to go on the road in New Zealand. With its eye-catching blue, silver and white livery, Horotiu-based Hanes Transport is creating some interest on Kiwi highways with its new Iveco S-Way 570 6x4 towing a one-of-a-kind Hanes-TRT 3-axle widening forklift semi-trailer.
The 570-horsepower engine sits at the top of the new generation S-Way line-up which also includes 360hp 8.7-litre, 460hp 11.1-litre and the 13-litre in 530hp and 570hp choices.
The top-of-the-range 570hp Cursor 13-litre six-cylinder develops a strong 2500Nm arriving at 1,000rpm and flat-lining till 1,605rpm to provide a wide spread of torque.
The 12-speed automated manual transmission – which Iveco brands as the Hi-Tronix – is a ZF-sourced unit. It's standard fitment in New Zealand on the high horsepower S-Way models.
All of the engines are compliant with the latest Euro 6 (Step E) emissions standard through the use of Iveco's HI-eSCR emission control technology – a single after-treatment system featuring passive DPF (Diesel Particulate Filter) regeneration which does not require driver intervention.
Iveco says reduced fuel consumption, a lower tare weight and no requirement for additional cooling (as passive DPF regeneration occurs at a lower temperature) are benefits of this approach compared to EGR and SCR solutions.
New S-Way also offers multiple cab sizes and three roof height choices with the Hanes truck being the roomiest AS sleeper cab and high roof configuration.
This stylish new arrival joins a Hanes Transport fleet which also includes a Kenworth, two Freightliners, a Scania trio, a single Volvo, and an older Iveco. Plus, there's a DAF 4x2 and some smaller Mitsubishi trucks used for around town work.
There are also four pilot vehicles and to expand on the theme of brand variety even further, a 150-tonne Mack Titan heavy haul unit is currently in build.
Hanes Transport specialises in moving a wide range of new and used machinery nationwide.
Director Simon Hanes says the S-Way was selected on "the off chance" after a visit from an Iveco salesman and follow up discussions with Elliott Barnard to conclude the deal.
The new trailer was nearing completion and the lengthy delivery times for many brands was likely to further delay getting it into regular work.
"It [the S-Way] was in-stock and I think it looks way better than the old model," says Simon.
"So, it was availability and the fact our old Iveco has been a good truck that made the decision. The old Iveco had got me over the line a few years back.
"And Iveco has now got a good warranty and service intervals."
For this New Zealand Truck & Driver Big Test, the truck and the trailer are an integrated package.
It was during Covid that Simon formulated the ideas for a low deck height trailer suitable for long haul moves of taller equipment – such as reach stackers and large forklifts – without the on-road compromises involved with small wheel trailers.
Simon explains that customers can save both money and time because larger size equipment that can transported without requiring partial disassembly to meet height restrictions.
"It's one of one," says Simon.
"It's built for doing long haul work at a decent weight, and it has a 500mm deck height on the road."
A key to Simon's design is the widener capability. The "cassette" packaging of the independent rear axles allows for full-size wheels and Super Single tyres on the trailer.
The likes of 14-tonne diggers and 12-tonne forklifts can be driven straight onto the trailer when the widening procedure is completed via push button control.
"TRT do the technicalities of my ideas," says Simon.
"They've done some of earlier ones and I've got ideas for a few more in the future."
The 3-axle semi has a 10.1-tonne tare weight and is at present permitted for a 20-tonne payload. On the road the trailer measures up at 2730mm wide and is 3880mm wide when it's being loaded.
"Once we get a handle on the trailer and its capabilities, I can see us doing all sorts of work. Especially moving those machines with tall, ugly masts that nobody wants to cart," says Simon.
Simon explains the truck is still a work-in-progress at the time of this NZ Truck & Driver test in May. He's waiting on some switches to arrive before the accessory lighting can be used and there's also a Navman system to be installed.
The final look of the truck was also still to be settled with some accessory side skirts being considered. Simon reckons they would tidy up the appearance of the left hand side of the truck and put the finishing touches to a stylish looking rig.
The stripes and signwriting work on the S-Way was completed by Hot Shot Signs in Hamilton. That includes the Anzac tribute mural across the rear of the cab, a theme which is a signature on all of the Hanes Transport trucks.
Hamilton-based Pete Cunliffe previously drove the Hanes Transport Volvo FH16 or a couple of years before getting the keys to the new S-Way. His typical routes include twice monthly runs to Christchurch and depot-to depot work across the North Island.
Pete's working career includes time in farming and managing a kiwifruit orchard and he began full-time driving about 20 years ago.
"I started in a little Volvo 460 truck and four-axle trailer and progressed up the ranks and ended up driving a new DAF truck and trailer. This is the second brand new truck I've had," Pete says.
He's also spent plenty of time behind the wheel of a Freightliner Argosy truck and quad trailer combination and some time in an MAN.
"They tell me Iveco has come a long way, but having never driven one before I wouldn't know," says Pete.
Pete moved on from StraitNZ about two years ago to drive the Hanes Transport Volvo FH 700.
"I pretty much fell into the job. I knew a guy who was driving for them, and we were on the ferry one day and he asked me casually if I wanted a change? I knew the driver on the Volvo was leaving.
"Then I met Simon on the boat. He said he'd be in the yard on Saturday, so I went down and had a yarn with him.
"It's interesting work and it's a change from driving a flat deck on linehaul. There's more variety in the work and the company has a way better family atmosphere. It's small with only half-a-dozen drivers.
"Simon and the family appreciate what you do and you're happy to go the extra mile for them when something has to be done.
"And Simon likes his gear looking smart."
Pete's work involves shifting forklifts, stackers and construction equipment.
"Those combis that they use at Mitre 10 and Placemakers – I shift a lot of those around," he says.
Our load from Horotiu across to Mt Maunganui is a Jungheinrich four-direction forklift with a couple of forklifts to pick-up from the Mount for the backload.
There is only 7300km on the Iveco's odometer during this test and Pete has already made a run to Christchurch and returned via New Plymouth.
His first impressions of the S-Way centre on its comfort and quietness, the tidy layout of the controls and a pleasant surprise in how it performs having previously had 700hp at his disposal with the Volvo FH.
"This reminds me of an MAN with the same sort of ergonomics and European layout," says Pete.
"I like that everything is nice and easily within reach. All the modern European trucks are like that.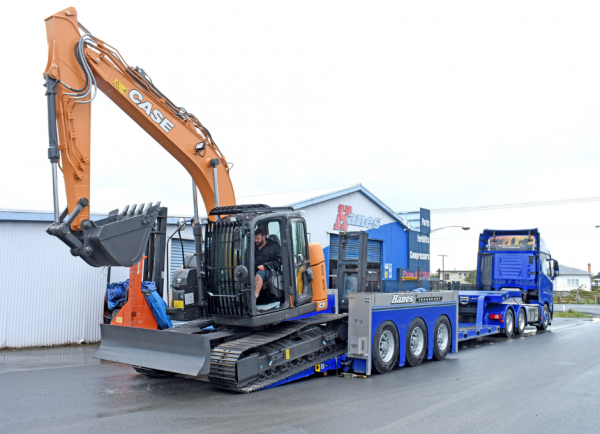 "The instruments are clear and most things you can operate from the steering wheel.
"There's so much you can dive into on the info display. It'll even come up with messages praising you for smooth acceleration or tell you off for harsh acceleration.
"One thing I like is the phone connection [Bluetooth] is very clear. It's the only truck I've had with no interference – you can have a phone conversation with someone and it's like they are sitting right next to you.
"It's a nice comfy ride and the leather seats are good. They are two-stage heated and have a two-stage cooling fan as well. And there's a lot of adjustability for the seat but I would like a bit more in the steering column."
The adjustment for the steering is unique to Iveco with a foot operated control in the floor, near the base of the steering column.
"It's got auto wipers and the lights are good," says Pete.
"The modern LEDs are really good and I'm looking forward to seeing what it's like when we get the light bar working. We are still waiting for some switches so we can connect it all up."
Pete says there's a few things he's still learning and a few details which could be improved. For instance, the layout and view offered by the mirrors is different to the Volvo.
"I probably prefer a flat mirror. These mirrors cause a bit of a blind spot at some roundabouts because they are so big, and because the monsoon is tinted.
"The Volvo pillars and mirrors were so slim. These are quite big mirrors and there's quite a lot around them. It's just something to get used to in a new truck."
The cab sits high and offers plenty of forward visibility with nicely spaced steps for the climb aboard.
"The cab has heaps of room and storage. There are three cupboards above the windscreen, two alcoves and a fridge which slides out from under the bunk. And there are USBs all over the show," says Pete.
"I've slept in it three times so far. It's got one of those memory foam mattresses.
"The space is comparable to the Volvo Globetrotter. I'm going to measure it one day – I reckons it's as big if not bigger.
"When you are pretty much living in the cab for a week you like your home comforts and the higher roof makes it more liveable with a lot of headroom."
There's also a hatch in the roof.
"If you parked up at night in summer you might open it up and leave the mesh closed to keep the bugs out, but the rest of time you would use the climate air conditioning."
There are a few features and traits of the Iveco which Pete is still getting familiar with.
"I find the brakes a bit touchy in their response but spongy in the pedal feel. We've had them adjust the brakes on it once already, and we're going to have another crack it," he says.
There's also a bit of adjustment needed with the radar system and its activation of the autonomous emergency braking.
"On some right-hand corners, it will slam the brakes on. I like to stay left because this trailer cuts in a bit and it will pick up a sign or something on the side of the road and start braking. It's done it a couple of times.
"You have to watch the trailer because it's 2.7m wide and it does tend to cut in a little bit on corners. It's always in the back of your mind around town and pulling in and out of gateways."
At 90kph on the Waikato Expressway I mention there's a bit of wind noise that seems to originate around the sun visor.
"It's there if you're going into the wind. But it's less if the wind is coming from the sides or behind you. It's a quiet truck anyway, so you probably notice it more."
Pete says he's impressed with the level of performance and the responsive shifting of the Hi-Tronix AMT.
"I like the auto. It's good for me. It pulls really well up a hill when it's loaded," Pete says.
"I'm a bit surprised because it's only a 13-litre motor and I'm used to the Volvo which was a 700hp 16-litre.
"It's a lot of horsepower out of a little motor. Coming down to the smaller motor it's a surprise that it pulls like a train really."
Pete says the adaptive cruise control works well maintaining both the set speed and the distance from the vehicle ahead and while the transmission can be shifted manually, he says he leaves it in auto mode.
"Quite often I leave it in cruise control and use the plus-minus to adjust speed for the corners.
"You can go to manual mode. I haven't used it in manual mode – they have computers running them for a reason.
"I came up Mt Messenger empty in a line of traffic that was going really slow in the damp. The truck didn't hesitate or wheelspin or anything. It was in seventh gear, but only because the traffic was so slow.
"There is a crawler gear in there and I might have to use that on some of the sites we go to. There are some gateways and driveways where this trailer is so low you have to adjust the air suspension to get enough clearance and go very slowly."
The engine brake is located on the right hand stalk.
"It's four-stage and works reasonably well – better than the Volvo anyway. It's a retarder not an engine brake."
Pete says the heaviest load on the trailer so far has been 20-tonnes.
"The whole combination is a work in progress. The trailer can handle more so potentially it could go to an H sticker, but Simon is still working on the permits."
"With this trailer were not going to be doing the heavy weights. Although saying that there's another three-axle widener Simon has got that we'll be towing a little bit with diggers and bulldozers, so the weight might get up a little bit with that."
Starting our trip from Horotiu, the S-Way gets onto the Waikato Expressway and accelerates smoothly to 90kph at just under 1500rpm in top gear.
The traffic is moderate and flowing freely and it's not till we turn left onto Highway 29 at Piarere that the smooth and quiet progress of the S-Way is interrupted by anything other than slightly slower traffic.
On two occasions Pete's smooth lines prompts an urgent buzzer warning from the lane departure that notes our proximity to the white lines.
At Piarere Pete demonstrates the full extent of the retarder by using the fourth stage to slow to 35kph for the left hand filter onto SH29.
It's a flat run through Hinuera and Te Poi before the stop sign at the base of the Kaimais. Away from standstill the S-Way begins the climb and builds speed to 70kph at just under 1500rpm in 11th gear as we pass the Rapurapu Rd junction.
Further up the climb there's a 60kph downshift into 10th gear at 1700rpm and only one more shift before the summit with the last few corners completed in ninth gear at 45kph and 1600rpm.
The only issue on the climb is torrential rain and surface water flowing across the road and Pete points out an annoying stutter in the sweep of the passenger side wiper.
"It's not working hard at all to come up the Kaimais. Coming down I'm still trying to find the best stage in the retarder," he says.
Heading downhill Pete reckons with this light load there is a gap in the retarder stages. It's seems stage three is not quite slowing the S-Way enough, but stage four is a little too aggressive.
"in the fourth stage when it chops down to eighth it pulls it up a bit too much."
I ask Pete what the response has been to the Iveco from other drivers. He laughs and replies; "it's been mistaken as a Scania a few times because of the grill and the Hanes colours.
"I've had a couple of guys say `looks nice mate' but there is a lot more interest and questions about the trailer.
"A lot of our clients are interested because it's a different ball game. When I go to a business the guys are coming out to take a look while I'm widening it.
"Simon had talked to some of his customers about it and now it has finally eventuated they are really keen to see it and find out what it's all about.
"It's the low height and the fact the tyres are so big. If you look at the other low trailers, most of them are running little tyres.
"It for sure makes a difference on a longer run and the tyres seem to be wearing well."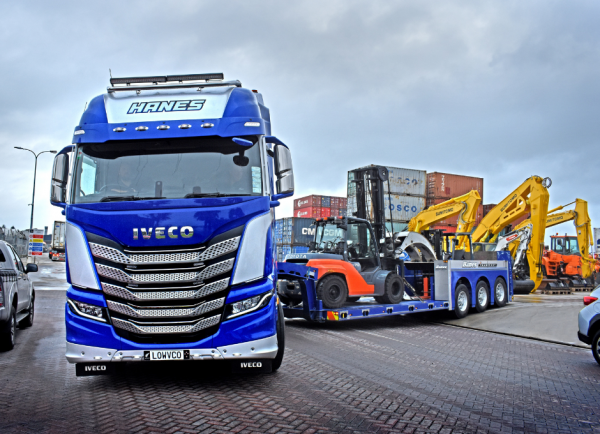 Pete says it's easy to see how the design will benefit Hanes Transport customers.
"The idea of it for things like reach stackers. I can just go in and drive them up without any hassle. They can be higher masted because the deck is so low, and customers don't have to worry about taking masts off.
"I did a 10-tonne forklift out of Christchurch up to New Plymouth that had a 4.7m high mast. We were able to kick the forklift right over and keep the load under 4.8m, so the customer didn't have the cost of having the mast taken off and put back on again.
"That's how we can serve our customers better with this unit.
"Most decks on the B-trains are about 900mm. That's an extra 400mm that we've got to play with that can speed up the whole process."
Pete repeats Simon's assertion that the S-Way is still a work in progress.
"I think we'll put a stainless cover over the chassis when the engineering guys aren't so busy," Pete says.
"And I'm pushing for side skirts. I think it will look way better. The left side of the truck looks a bit busy with all the air tanks and electrics and things. It would suit the truck if we added them.
"When Iveco bought this first shipment of S-Way into New Zealand you would think they would have brought a whole heap of accessories with them to surely dress at least one of them up to look as good as they could be."
The issues of availability didn't stop with Iveco's accessories. A close look at the S-Way shows two brands of wheel.
There are Alcoa Dura-Brights on the front axle, but the drive wheels are a Jost 22.5 x 8.5 wheel with bright finish.
"We couldn't get Dura-Brights for the rear wheels at the time," says Pete.
Pete says he's enjoying the S-Way and it hasn't taken long to put any initial reservations to rest.
"For an old bugger like me it's nice and comfortable and easy to drive," he says.
"The more I drive it, the more I like it. It's a modern European truck and so easy to drive. I'd hate to get into a new truck you don't like and be forced to drive it."
"There's really nothing bad about a new European truck these days. It's just about which flavour do you want, how much horsepower do you want and what is available."
"The proof is in the doing and I think this truck shows how far Iveco has come. I'm pretty sure with the availability we'll see more of them in the market."
Simon Hanes is also happy with how the S-Way is getting its work done.
"It's a good looking truck and with a nice paint job and a bit of bling they look great," says Simon.
"But it's got to be able to perform and so far, it's delivered on what our expectations were.
"It should be an ideal truck for what we want it to do. It's comfortable and quiet and it's got enough horsepower. And it's good value for what it is and what it does, and it comes with a hell of a lot of warranty."