Big Bird Takes Off
12 July 2023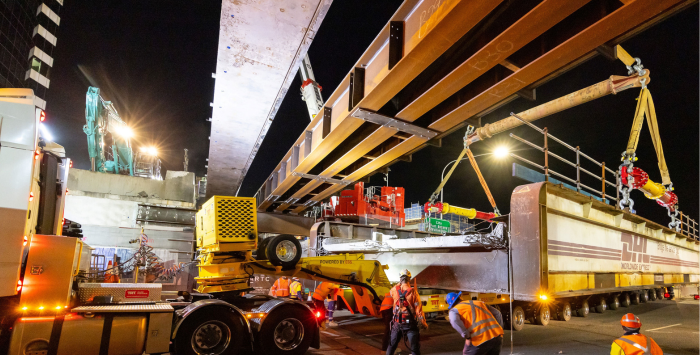 5 minute read from Cranes & Lifting Magazine.
The impressive 'Big Bird' 11-line trailer from TRT was used along Qantas drive in Mascot to deliver a 130-tonne bridge section.
This remarkable move was accomplished by the team from McDonald Contracting Pty Ltd, working alongside Borger Cranes who have been sub-contracted by John Holland to move these bridge sections.
McDonald Contracting's 11-line TRT Electronic Steering System (ESS) modular platform Trailer was configured as a 4x8 Lead Trailer, 5x8 ESS module and a 2x8 ESS module.
TRT's ESS System is available in its modular platform and house trailer range and is an exciting development made by the company.
Every axle is controlled individually via a computer system that detects any offset angle between the trailer's gooseneck slew-ring connection and the truck's fifth wheel. This is translated into hydraulic oil movement within the steering ram of each axle leg, thus maintaining near-perfect steering geometry.
Jeremy Carden From TRT trailer sales breaks down the ESS system and how the trailers work well in conjunction with the crane division of TRT and the crane industry itself.
"I am in trailer sales, so I work closely with the transport of cranes and many of our trailers are working closely on these large infrastructure projects," Jeremy said.
"We engineer and build them onsite here in Hamilton New Zealand utilising our teams to understand the wants and needs in the industry."
We were looking to partner with the right company to place the Big Bird Trailer, and we wanted to put it out with a company who would push its limits and use it to its full potential. McDonald Contracting was a house moving company originally, so they specialise in the movement of large structures and have been purchasing trailers from us for close to 20 years.
"The 'big bird' trailer is a four modular system, using our quick connect innovation, coupled with the ESS technology, we believe it to really be at the cutting edge of trailer technology" Jeremy said.
That system effectively allows the user to reconfigure the trailer into a completely different unit within around 90 minutes. Which is a game-changer when compared to traditional mechanical linkage steer platform trailers currently available to the market in both New Zealand and Australia.
"The trailer is a lead unit of four rows of eight, and then a five row of eight module and a two row of eight module. This allows the trailer to operate as a four, a six, a nine, or 11 row platform trailer," Jeremy said.
"The technology that we see on this trailer is not a new concept, it has been used in the construction and design of mobile and all-terrain cranes and Self-Propelled Modular Transporters (SPMT) since the 1980's.
"However, TRT have taken it to the next level.
"Our patented innovative ESS system including the 'Quick connect', integrates the prime mover, 5th wheel and TRT modular trailers into one cohesive unit," Jeremy explained.
TRT has struck a strong balance between modern technology and tried and tested trailer mechanics, the trailer is 90 per cent hydraulic and mechanical with the remainder of the system using encoders and a computer system for signals and communication to shift hydraulic oil where needed.
The 11-line trailer has a range of steering modes, which are a mixture of auto modes – controlled by the Prime Mover and then Manual modes – controlled by an operator using the fully-proportional remote control.
This system has the huge advantage over conventional SPMT's, in that the unit can be driven at any road legal speed.
The trailer has fail safes for steering and suspension in the form of a pressured accumulator system in the very unlikely event of a powerpack failure. This is a redundancy that is very similar to what is being used in modern day cranes.
Multiple steering modes are available to any operator using one of the TRT ESS Trailers
. Normal Auto Steer (commonly used for transiting locations)
. Rear Axle Straight
. Auto Crab Mode
. Manual Crab Mode
. Site Manual Mode
Owner of McDonald Contracting Pty Ltd, Shane McDonald talks about the technology.
"We have been using TRT's ESS technology for over three years now. The steering geometry and manoeuvrability scope is 110% beyond expectations."
"Our 5 Axle ESS Trailer manufactured by TRT is extremely reliable. TRT's service and back up is way beyond expectations. I can ring 24 hours a day, 7 days a week and the phone will always be answered."
"TRT's ESS Trailers provide us with a huge competitive advantage by providing us with stability on jobs. We have more ability to access difficult sites compared to any other trailer in the market."
Jeremy goes on to explain the flexibility of the trailer.
"The best thing with the trailer is that it is extremely strong when it is closed which is how it will spend most of its life, then it can be extended to give you a better opportunity to win contracts and working on bigger projects," he said.
"When it comes to sourcing the right trailer for users, it is all about having open conversations about the needs for the trailer. From there we work out what is the best lead unit as well, so we customise it to their specific needs.
"For us it is all about creating a partnership and a clear understanding between each other to ensure the right product is being delivered," Jeremy said.
A challenge that TRT recognises is the varying laws state to state within Australia with axle numbers and weights on the trailer.
"We have found for example in New South Wales that the five rows of eight rule means that operators can get excellent tonnage and it is extremely simple to get permits. We believe these layouts for trailers will be the norm in Australia as they begin to be rolled out.
According to John Holland Group's Heavy Lift Specialist, Conan Jenkins, the exceptional and versatile capabilities of TRT's ESS Modular Platform System makes these trailers an unparalleled choice for complex tasks. Their innovative configurations have made them the preferred solution over other options.
If you're interested in a quote or would like to chat with someone regarding our TRT Trailers, you can contact Jeremy Carden on +64273540329 or email jeremyc@trt.co.nz.