Adam's Crane Lifting To New Heights
20 July 2023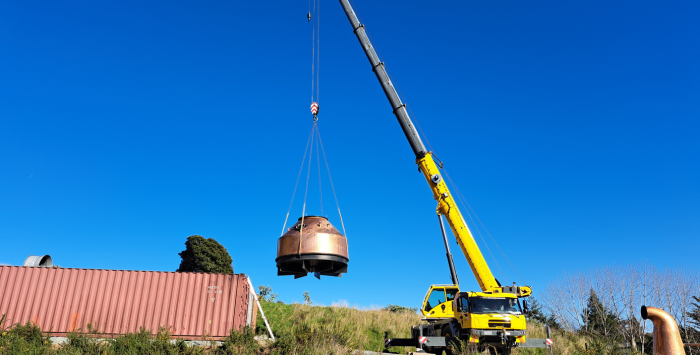 5 minute read from Cranes and Lifting.
Driven by a strong passion for his local community, his family, and the industry he works in,
CANZ member Adam Gausel opens up on his history in the industry, his business, and his Grove GMK3060L-1.
For Nelson local Adam Gausel, engineering and the construction industry have consistently been at the centre of his professional career.
"I've always had a passion for cranes and machinery," he says. "Before starting my own company, I'd worked my way up to management at a small crane hire company that was a subsidiary of a development-construction company. A change in the business provided the timing to give ownership a go."
Having been in the construction industry for 23 years, being owner and operator of the Nelson-based crane hire company is turning out to be what he'd "hoped it would be".
"The business is ticking along well," he says. "I'm established now and have a good core clientele who I'm focused on providing with a high level of service. The casual crane hire is increasing at a pace that is manageable, so I'm happy with how the first couple of years have gone."
Out of many, one of the things Adam enjoys about working in the crane hire business is that there are a multitude of different aspects to the job. Constantly needing to adapt to other people's projects at pivotal moments and being kept on his toes is a challenge that Adam regularly embraces through his business.
"Crane hire is always interesting as you never really know what you might end up doing next," he explains. "My work is mostly construction and industry based, but I also have construction projects within other industries as well as ongoing work for a provider to central government."
Aiding him in his conquests around the region is Grove's GMK3060L-1, a 60-tonne capacity crane possessing a 48-metre boom length and a 65-metre maximum lifting height. Coming up to two years since purchasing the crane, Adam says the Grove is "great to use", reserving special praise for Tidd Ross Todd Limited (TRT), which was where he acquired the crane.
"I enjoy a really good relationship with TRT; they've been very good to me considering I'm just a small entity," he said. "I appreciate the product support from their team; it's one of the main reasons I purchased a Grove."
On top of the aforementioned specifications, Adam's main selling-point for the GMK3060L-1 is its radio control feature. Allowing the operator to control the crane from outside the cabin, having an enhanced vantage point and the ability to work alongside his clients are some of the major positives for him.
"Half of my background in cranes is working with knuckle boom cranes," he says. "I got very familiar with radio control and can see the advantages especially for a small business starting out where it's hard to justify rigging staff. The radio control was something I really wanted to try with a mobile crane."
Being able to do all the functions from outside the crane allows the operator to position themselves in what they deem to be the best possible place and also allows for optimal communication between client and operator. However, there are instances where Adam won't use radio control, as he explains.
"Not being in the machine and being able to feel how it is behaving is always a consideration," he says.
"I'm fussy with blocking under the outriggers and I optioned the crane with outrigger point load sensors so I can keep track of the stability of the crane. It goes without saying, configuring the crane correctly and operating it safely is critical."
"There are situations where I don't use the radio control, like tree removal with arborists or if I feel it's safer to be in the crane."
Overall, though, the radio control feature of the Grove – a first in Nelson – is something Adam says he "couldn't" go back on.
"With a mind on not having the feel from being in the seat, being at the load makes a massive difference for how I interact with my clients," he says. "I feel it's a positive step forward, and I don't think I could go back to operating a crane of this size conventionally."
Having been born and raised in Nelson, Adam and his family feel a strong sense of connection to the local community and surrounding environment. Having purchased the latest model Grove with a EUROMOT 5/Stage four engine as well as a counterweight trailer to eliminate the need for a support truck, Adam says producing fewer emissions and cutting fuel consumption and end of life waste are a step in the right direction.
"It's good to see hybrid cranes starting to come through," he says. "At the time of purchase the hybrid wasn't an option but the Cummins engine is a good little runner and a step forward on previous models in terms of emissions."