Wide Load Follows
27 July 2023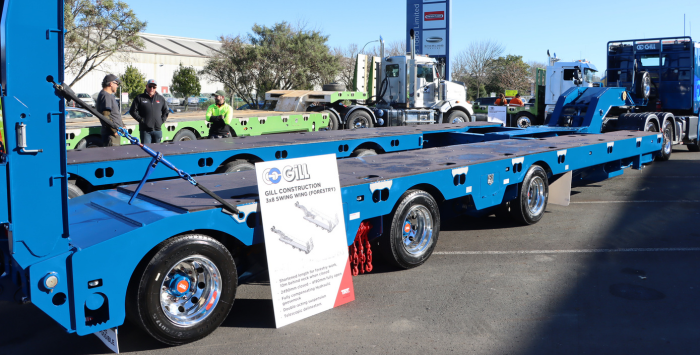 5 minute read from New Zealand Trucking Magazine
Few trailers hide as much sophistication in their outwardly simple appearance as widening low loaders and house removal trailers. These flat-deck cousins are also – simply – cool. We went to TRT's recent low-loader event to discover what lies beneath the coaming rails.
The intrigue of what's following a couple of pilot vehicles always leads to great excitement for truck enthusiasts. But how much thought is given to the design and engineering that goes into building one of those multiple-row mammoths?
TRT's Head Office in Hamilton is also home to its 33,000m2 manufacturing site, which produces a range of trailers and cranes to ISO 9001: 2015 standards, and supports customers with service facilities, rebuilds, and parts support.
Glen Harnett, TRT General Manager of Sales – Capital Whole Goods, explains that the build process begins within the TRT design office, where the design and sales team work together to provide a solution for the customer. Once sign-off has been confirmed, manufacturing drawings are provided to the steel processing and fabrication shops to start the manufacturing process of the trailer.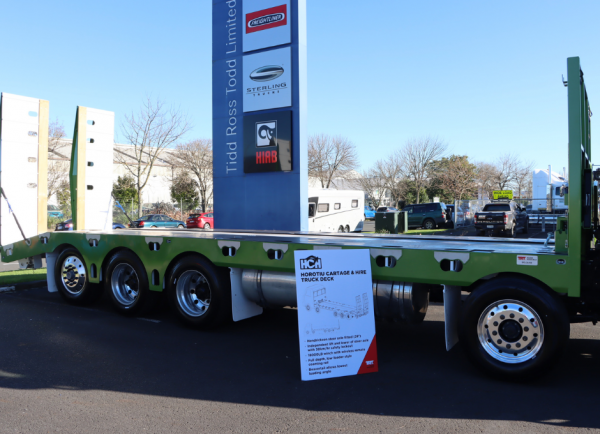 The actual manufacturing process starts in the steel processing division. Raw steel, most of which is high-tensile steel sourced from SSAB in Sweden, is processed by the CNC machines and steel plasma cutter, resulting in precisely machined individual components.
On using Hardox AR450 wear plate, Harnett says: "All our Low Loaders have AR450 Hardox decks. We now use 5mm or 6mm steel decks that provide a strong hard-wearing deck, as well as minimising the tare weight.
Harnett explains that TRT does as much in-house manufacturing as possible. "We have control and flexibility in how we manage our jobs. We're a lot more efficient and we can ensure the quality is maintained."
Every steel component for each trailer is machined, profiled, or pressed and sent into the fabrication process on a steel pallet or forklift dolly. This ensures that the fabrication team receives all the parts required to build that particular weldment of the trailer.
At the fabrication shop, a couple of house trailers are being built. "We've changed our design a little," says Harnett. "We've developed a Fabricated Double-box trombone that is lighter by approximately 40kg per meter, stronger, and stiffer than more traditional designs. That's important for house movers, as they don't want the trailer flexing overly much, causing damage to the house or structure they are transporting.
TRT also employs a CNC line-boring machine and a robotic welder to aid in manufacturing and assembly. The line boring machine replaces the old process of machining a boss and welding it into place. "These days we don't even use machined bosses. For example, we weld a block on the end of the swing arm, and the line borer drills straight through. It's incredibly accurate," says Harnett.
Gary the robot welder – affectionately named after Gary Webber who was the lead in getting it up and running – adds capacity and aids the welding technicians for certain components.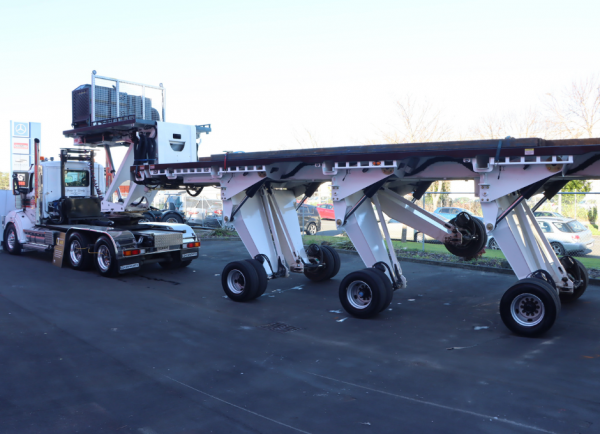 Eventually, all parts reach the paint shop. TRT operates a sandblasting booth and two electrostatic paint booths. "Every item on a trailer is blasted and painted separately to ensure complete coverage. We blast at 50 microns and within a few hours, the primer and top coat are applied. It's important that our customer is provided with a product that has the correct paint coverage that will ensure the longevity of the trailer," Harnett comments.
Finally, we get to the final assembly where components like lights, wiring, hydraulics, braking, and steering are fitted. Harnett takes the opportunity to detail TRT's Electronic Steering System. Commonly fitted to Platform and House Trailers, ESS allows for maximum manoeuvrability of multiple-axle units. We explored the system in detail when we hopped aboard PBR's Peterbilt 389 for the October 2020 issue but, in brief, the system works through a ball race slew ring on the gooseneck. Inside that two encoders signal each steering ram to set the radius and follow the line of the truck. The system offers 35° steering on house trailers and 45° on platform trailers.
"The steering geometry is accurate to the radius you're going around. The trailer will follow the truck as much as it can until it gets into an obstructed position. Then an operator can individually steer each axle by remote control to manoeuvre the trailer."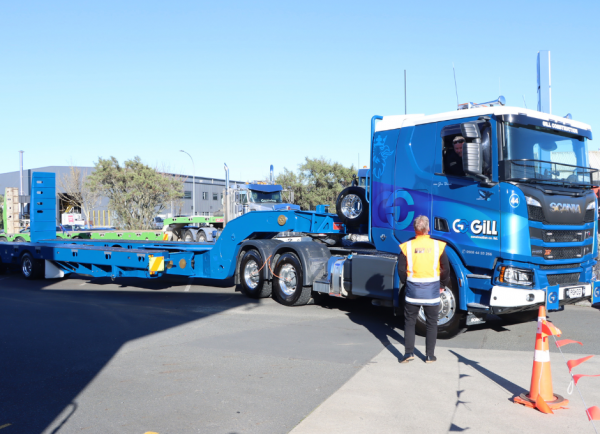 ESS is also electronically configurable when operators add or remove axles via TRT's Quick Connect clip-on modular system, whether the trailer is extended or widened. The operators simply configure the ESS via an in-cab display screen and the trailer's pivot point is adjusted to suit.
"With mechanical linkage platform trailers, every single linkage on every single axle would have to be changed when adding axle modules. Changing a 12-line Platform Trailer could take two guys two days. A Quick Connect module can be added in 30 minutes to 90 minutes depending on whether it's a house or Platform trailer.," says Harnett.
What we've managed to condense into these pages is up to two months of design work and around 4000 hours of fabrication and assembly. However, that's all for creating the right product for the customer. "We offer our customers an option against our competitors – we don't want to just give them the same; we want to be able to provide a better product. We need to thank our loyal customers who have helped us push the envelope on design," concludes Harnett.