TRT's Strategic Plan Drives Manufacturing Success
7 June 2023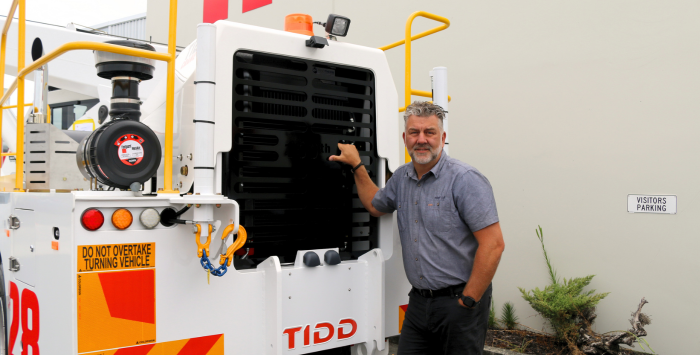 5 minute read from Cranes and Lifting Magazine
COVID-19 was extremely disruptive for numerous organisations, with many manufacturers just recently getting back to pre-pandemic capacities. This is not the case for TRT. During the pandemic, TRT's management team took the opportunity to refocus and to invest in areas that will benefit the business for years to come. TRT Chief Operating Officer Lawrence Baker spoke exclusively to Cranes and Lifting magazine.
"COVID provided us an opportunity to examine our brand and our key products. As part of our Made Possible branding, in Financial Year 2022 (F22), we worked on strategies that would take the business from F22 through to F26. We decided F22 would involve realignment to drive efficiencies throughout the business.
"The TIDD Pick and Carry Crane has gone from strength to strength. Almost four years ago, we were proud to launch the TIDD PC28 which built on the success of the TIDD PC25, which we had manufactured and sold 47 units, from 2011 to 2017.
"We are coming up to the 100th TIDD PC28, which means we have manufactured twice as many in half the time which shows the market wants home-grown, quality-made products, from Australasia. We continue to design and manufacture quality products and we are always working on ways to make improvements," said Lawrence.
This realignment process also enabled the TRT team to carry out a thorough examination of its products, says Lawrence.
"We conducted a full examination of the TIDD PC28 engaging our customers and dealers. This led to the setting up of our TIDD Improvement Group, which looked at several improvements based on operator efficiency, what worked for the operator and what didn't. We spent time examining the ergonomics, the usability, and the functionality inside the cab and this has led to improvements around the operator's feel and experience of the TIDD," said Lawrence.
He goes on to explain how product development is managed in-house and how investment has led to greatly improved manufacturing processes.
"To be able to continually improve our products we knew we needed to invest heavily in capital equipment and plant, and we've done this. We invested in brand new plasma cutting technology which allows us to cut smarter, cut lines more cleanly and to be a lot more accurate in our design. We have also invested significantly in robot welding technology.
"2023 has seen improvements to our manufacturing processes with what we call 'Drive Efficiency'. To drive greater efficiencies, we have completely reorganised how we manufacture the TIDD. This re-organisation has created a flow-on effect to our manufacturing. We take the parts in a timely manner and we make sure our high standard of work is maintained with visual control and Quality Assurance checks.
"We are now building two and a half to three TIDDs a month. We build them on a 14-week cycle and if a customer gives us nine weeks' notice we'll paint the TIDD on site in any two colours the customer wants," said Lawrence.
"From the moment we receive and cut the high-grade steel to, as we say, waving the mudflaps goodbye, we manage all processes in-house. We cut the steel with our new plasma technology, we have bending and press capabilities, where we manufacture all the booms, the chassis and everything else. All the major components are built in-house before going through to final assembly where we put it all together in our new, final assembly manufacturing facility," he said.
TRT's site in Hamilton, New Zealand, is 33,000 square metres with 9,000 square metres under the roof line. A recent initiative from the board focuses on cutting the organisation's carbon footprint.
"We recently installed a complete solar system on one of our sheds from which we generate enough power to run all of our machinery and plant and equipment. It's so successful we are installing a similar system on our second shed roof line. Reducing our carbon footprint will continue on an ongoing basis," said Lawrence.
TRT currently has 234 staff overall with 28 in the Australian business. Of the 234, 114 are manufacturing staff, explains Lawrence.
"With this in mind, we have developed a very strong apprenticeship program and we try to cover 10 per cent of our working force at any time, with apprentices, so we are heavily invested in this program. One of our senior fabricators, Nick Marsh, has been with the business for 10+ years, he is the fabrication team leader and apprenticeship coordinator.
"Once a week we take all our apprentices off the shop floor for one hour before they finish work, and we put them all in our training room where Nick goes through their paperwork and supports them with all the projects they are involved in. We are very proud of Sasha Devia, our first female apprentice who is now in fabrication, and she's going just great," said Lawrence.
Sasha, who only started working at TRT 11 months ago, says being the first female welder at the company is something she is very proud of.
"I like showing the team that I can do it too," she says.
"The team at TRT hasn't treated me differently because I am a woman, they treat me the same as everyone else and I couldn't be more grateful. I have been told in the past that I couldn't be a welder, but TRT made that possible."
Along with the TIDD pick and carry, TRT has an excellent reputation for supplying other crane related products including specialist Trailers and Crane Pads as well as representing major OEM products such as Kobelco and Manitowoc.
"Apart from manufacturing the TIDD, we are proud to be the Kobelco Crawler Crane distributor for all of Oceania, that covers Australia, NZ, and the Pacific region. We are also the New Zealand and Queensland distributors of Manitowoc which includes Grove All Terrains. Another one of our value propositions is our range of crane pads."
"The market is very demanding regarding requirements for crane pads, and we offer a 12-week lead time on this product. Again, we make them completely in-house starting with the moment the steel arrives," said Lawrence.
"We fabricate the pads utilising our robots. We understand there are other products on the market, but the TRT crane pads are engineered so that when they get to site, they are certified and fit for purpose."
A significant customer for TRT is Borger Crane Hire. Shawn and Nathan Borger have seen the benefit of TRT-designed and manufactured crane support trailers and crane pads for many years.
"Over the years we have provided Borger Crane Hire with a full range of crane support trailers and crane pads which complement their crane fleet. Just recently two more crane support trailers were loaded ready for delivery and there were 12 crane pads. Borger's has been a great supporter of TRT and a great ambassador for our crane pads.
"A number of crane companies in New Zealand and Australia utilise our purpose-designed products and we've designed crane support trailers for Kobelco, Manitowoc and other brands of cranes. Our trailers enable customers to mobilise and demobilise quickly and efficiently because the trailer is specifically designed for the crane and its associated equipment like counterweights and rigging equipment," said Lawrence.
TRT's Australian operation has seen some significant operational changes since Neil Webb joined the organisation 12-plus months ago. With senior crane specialists joining the team, Lawrence is excited about the future for TRT Australia.
"COVID-19 was a tough time for TRT's directors, shareholders and the executives based in New Zealand because we were unable to get across the ditch to see our Australian team. I think timing is everything in life, and Neil Webb was keen to bring his family back home from Indonesia and we were keen to have a crane expert running the operation.
"Already we have been able to leverage Neil's knowledge in Indonesia, and we've sold a number of TIDD cranes into that market. Neil has also recruited a number of crane sales specialists to the operation, so we have a very positive outlook for the Australian operation," he said.
After-market support has always been a major focus for TRT.
"One of the advantages of working for a family-owned business like TRT, is they're prepared to invest in after-market parts. In early April we went live with a brand new ERP system for our whole business. We conducted an analysis of our after-market spare parts holding from the system we installed 24 years ago. Interestingly, we still hold some of that stock 24 years later because there's still a crane out there in the market that's being used that requires our after-market support. I think that's special and unique.
"We also have a really good support team, headed up by Aaron Gedge in Australia. With the support of Kobelco and Manitowoc, we can offer a service where we minimise downtime for our customers because we all know if a machine is down, it's costing the customer money. TRT offers an exceptional backup service in terms of parts, an excellent service team with experienced people on the ground," said Lawrence.
Last year TRT's executive team rolled out to all its staff the business strategy for the next five years. The "Plan to Win" strategy saw 2022 as a year of realignment. The next two years will include a focus on driving greater efficiencies throughout the business, with 2025 to see the growth momentum continue and 2026 to be a year of sustaining that momentum.
"We are not growing for the sake of growing, we want to be at a level where we can maintain the 'TRT Way', maintain our value proposition and continue the service levels that we've offered for 54 years," said Lawrence.
"We're very proud of the products we represent and manufacture. The TIDD pick and carry features Slew Safe which makes it a very safe product. We have a mentality around zero harm for our people, and also zero harm for the customers that use our products, and the Slew Safe technology allows operators to go to work with the expectation they will come home safe, and we're very proud of that," he said.
Recently, a number of Australian customers and potential customers visited TRT's Hamilton facility.
"Because we live and breathe TRT and we are here every day, we probably take our workplace a little for granted. It's not until you get a fresh set of eyes looking at our approach that you understand we are doing a lot of things right.
"We invited existing customers, and we had customers that had never bought from TRT before. Their overwhelming comments were around our people, how engaging they are and how passionate they are about their products and what they do. This includes Judith, our tea lady who has been with us for 18-plus years. In today's fast-paced business environment, I doubt there are many organisations that still have a tea lady on site. If you think Bruce Carden is passionate about our product you have to meet Judith, she's a special woman and just as passionate about the business.
"Feedback was very positive on just how much we have invested in technology and our capabilities to manufacture a high-quality product. They could see we have invested for the future, and one customer said, "I will buy the product from TRT, because I know you are going to be around for another 54 years," said Lawrence.