The Go with Kobelco
27 June 2023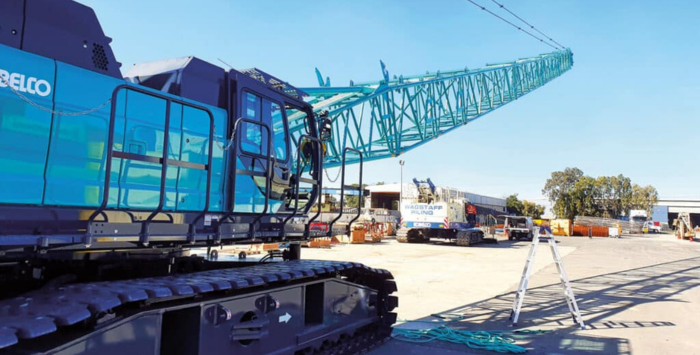 5 minute read from Roads & Infrastructure
Troy Hand, TRT Crane Sales and Pacific Islands Manager sheds light on the big and little differentiators that set Kobelco cranes apart from the rest.
If you work in the infrastructure sector, odds are that you've heard of Kobelco cranes.
The company has been manufacturing equipment for just a short of a century, using more than 80 years of experience to develop and distribute the latest in lattice boom crawler cranes, telescopic boom crawler cranes, and heavy-duty base crawler cranes.
The company now has more than 22 crawler crane models across the Kobelco range, each distributed in Australia, New Zealand, Papua New Guinea, New Caledonia, and Fiji by Tidd Ross Todd Limited (TRT) since 2020.
This range includes lifting capacities varying from 4.9 to more than 550 metric tonnes.
Troy Hand is well-placed to evaluate the performance of these machines. Before becoming the TRT Crane Sales and Pacific Islands Manager, Hand oversaw the operation of crane machinery as part of his own private business.
Hand says he's seen plenty of cranes in his time, but when it comes to quality and reliability, Kobelco cranes stand out.
"I've been around Kobelco cranes for more than 20 years," he says. "With Kobelco, it always comes down to quality and reliability. These are just two of the biggest reasons why the crawler crane fleet sells so well.
"When you hand them over to a customer, people know what they're going to get. It's not just selling the product for the sake of it, because we believe in the product. You know that the crane is going to help build the client's company and that they're going to get 20 years plus of use from that asset."
The brand promise
According to Hand, the quality and reliability of Kobelco cranes stem from the "fit-for-purpose" design of each unit, as well as the flexibility each unit provides.
"If customers want, they can use units as just a lift crane, or they can use it as a piling crane as well. There's definitely versatility there for customers."
As part of this design, Kobelco prioritised the sustainability, as well as the productivity of each unit.
For ease of operation, each unit features simple control layouts, which are consistent across the range.
"Operators can hop in a 80-tonne crane, or a 550-tonne crane and the layout is the same," Hand says. "The feel and smoothness of operation is second to none."
This is thanks in part to Kobelco's hydraulic control system, which can help to comply with specific jobsites.
Inside the cabin, operators can benefit from a limiter monitor, which helps to reduce the skill gap required to operate the machine. This includes a touchscreen panel, as well as easily understandable icons. Operators can also benefit from extra-wide windows that boost visibility.
Transportability is another key factor, with several units able to comply with transport regulations across Australia. Units can be adjusted to satisfy size and weight regulations required for local travel.
"[Kobelco] make the cranes very easy to transport across Australian roads. That ease of transport aspect is something that they definitely keep in mind with each of their designs," Hand says.
Why green?
Contributing to a sustainable environment is one of six pledges of the Kobelco brand.
This is in part one of the reasons why Kobelco cranes feature the iconic green livery. But how does Kobelco machinery contribute to sustainability?
Kobelco has implemented its 'Gmode' into new machinery that helps to reduce the fuel and energy required to carry out lifts on site.
One such element is the AIS (Auto Idle Stop) mode. This mode can save fuel by automatically stopping the engine once it's entered an idling state, therefore reducing energy wastage daily.
Also included as part of Gmode is the G-Engine mode, which enables the machine to increase the displacement of hydraulic pumps. Allowing high-speed operation while reducing the maximum engine revs required, reduces the fuel consumption of the unit.
"Keeping up with emissions is an evolution which everyone must take. Doesn't matter who the manufacturer is, it's a standard evolution going green," Hand says. "We need to have a look and see how we can take it to the next level."
There, every step of the way
Each Kobelco product sold in Australia is also backed by TRT's network of dealers, service offerings, and spare parts. Hand says the two companies have a strong agreeance and focus on sustaining quality while supporting customers in the long run.
"Both companies are manufacturers, so I think there's a level of understanding there. Both companies also understand and work to overcome challenges such as supply chain and shipping issues," Hand says.
TRT can provide 24/7, 365 days-a-year support for customers during the entire life of their cranes – Australia-wide – as part of a comprehensive package. The company has more than five decades worth of experience in servicing and repairing cranes.
"We've got some new models that are making their way across to Australia. Our domestic customers absolutely love our current models to death," Hand says.
TRT can supply a variety of Kobelco units for the Australian, New Zealand, and Pacific markets.
Receiving delivery
Avopiling is just one of many companies that have benefitted from Kobelco machinery.
Current owner and Managing Director Avo Tevanian, says the company took orders for six cranes in 2022 alone.
"I'm a big fan of the Kobelco range, they are the ideal solution for the type of work we carry out, and the reliability on these cranes is fantastic," Tevanian says.
"I've operated them myself for many years, they offer outstanding performance in tough conditions. Reliability and ease of operation would be the two main drivers that influenced our decision to invest in Kobelco."
"The required lifts are getting heavier. A three or four-tonne lift was normal, then a 15-tonne become quite regular. Next thing is 40 and 50-tonne scale lifts were becoming more sought after and now we can rely on Kobelco to do this work for us."
Another company that has placed it faith in Kobelco is Boddington Crane Hire. The company, specialising in dry hire equipment, has been operating Kobelco machinery for more than 12 years.
Manager Tom Hunter says the company looked to Kobelco when it needed machinery with more capabilities for larger works.
"Recently we have sent equipment to areas in the remote Goldfields, Pilbara, and Kimberley where you are a long way from support, and downtime is not an option. We enjoy the challenge of putting our equipment and people to the test and keeping our clients happy no matter what the situation," Hunter says.
"It was the reliability of the crane which comes from the top quality produced by Kobelco. For us, reliability and quality coupled with backup support have to be the top consideration in purchasing any new equipment."
If you're interested in a quote or would like to chat with Troy about Kobelco, you can contact him on +61423561111 or email troyh@trtaust.com.au. For more information on Kobelco you can also visit TRT's website: Here