TRT winners of CICA Outstanding Booth Award
22 February 2023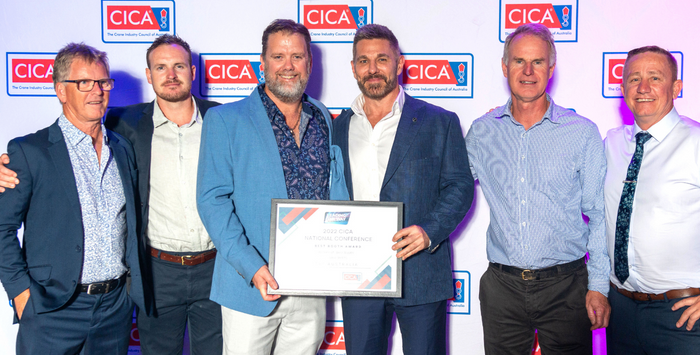 5 minute read from Cranes and Lifting Magazine
General Manager for TRT Australia Neil Webb has these observations regarding the CICA National Conference and Exhibition.
"I'm grateful that we are lucky enough to be in the position now, post pandemic with the borders open, allowing everyone in the industry to finally come together and celebrate," Neil says.
Firstly, I would like to say a huge thank you to everyone involved in the organisation of the event. There were impressive crane displays and exhibits everywhere you looked, and the venue and networking dinners were outstanding."
The crane industry includes very talented people and organisations that are always pushing innovation and engineering. TRT is one such organisation and it has been working on the release of the TIDD PC28-2 Pick and Carry crane, says Neil.
"Through the journey of innovation and the engineering of the new TIDD PC28-2, one outstanding achievement has been our ability to increase our side slope charts by on average 17 per cent WLL, on average. This huge achievement is not just down to the TIDD PC28-2, we are also offering it through hardware and software packages to all PC28 TIDD cranes," said Neil.
TRT believes customers are a fundamental part of the business.
"The new upgrades to the TIDD PC28-2 stem from our continuous focus on innovation and actively exceeding expectations for our customers," said Neil.
In 2011 TRT began designing and manufacturing the world's safest Pick and Carry Crane. The learnings and successes from this journey lead to the development of the TIDD PC28, launching to the market in May 2019, and now the launch of the TIDD PC28-2 Pick and Carry Crane which will be available from March 2023.
Leading from the front, TRT continues to enhance the overall TIDD Crane operator experience and performance. The upgrades to the newly named TIDD PC28-2 are driven through TRT's focus on continuous improvement, considering industry and operator feedback.
There are four key areas of improvement in the upgraded TIDD PC28-2. It features more powerful front suspension cylinders. This new system offers a greater lift capacity when articulated and working on a side slope, an up to 17 per cent improvement.
An additional three steps on the TIDD PC28-2 load chart have been added to improve lift control, delivering significant improvements when the crane is articulating. So, for the operator this means that as the crane articulates, it reduces the rate of the load chart decrease.
The Robway® TIDD Crane operating software has been upgraded with improved functionality. This enables faster processing and greater control responsiveness for the TIDD PC28-2 operator.
The upgrade features more powerful front suspension cylinders. This new system offers a greater lift capacity when articulated and working on a side slope, improving lift capacity by up to 17 per cent.
"TRT has always focused on the people when considering advancements in technology for the TIDD Crane. With operator and dogman comfort central to the design of the TIDD Crane, this new model also features a re-engineered ROPs cabin," said Neil.
This has been tested with a measured reduction in cabin noise levels by 8dBa at 80km/hr when on the road. As well as these considerable upgrades, TRT has been focused on ensuring that TIDD customers and operators are fully supported for the life of the crane, from onboarding of operators to parts and service support Australia and New Zealand wide.
TRT has recently launched its new TIDD Crane Operator Familiarisation Program.
"From the start, the development of the TIDD Crane was intended to set new standards in articulated crane performance, and we continue to focus on how we can advance this to provide the best possible solution for our customers," said Neil.
"The TIDD Crane has come a very long way in terms of design, capacity, and functionality. The new TIDD Crane Operator Familiarisation Program is another example demonstrating our commitment and focus towards providing a better overall experience for TIDD Crane operators."
The new program includes a new TIDD Crane Operators Familiarisation Video, designed for experienced pick and carry crane operators to quickly and easily understand the TIDD Crane operation, the functions, and the features of the crane, with access 24/7.
This exclusive program is designed to suit our customers' operations. TRT also offers in-person training from one of our factory-trained experts, online manual access 24/7, remote video with one of our experts, and a dealer and service support network Australia wide. TRT believes this journey has created an overall better experience that pick and carry crane operators have been demanding.
TRT's dealer support and service network includes Baden Davis Crane Connection, in New South Wales and the Australian Capital Territory, JDM Diesel Services in Victoria, RMB Service Group in South Australia and Ronco Construction Equipment and Engineering in Western Australia.
TRT's Dealers and Service agents are selected based on their experience and knowledge of cranes, and on their commitment to providing a high standard of ongoing customer service and parts support locally.
Neil goes onto discuss the TRT stand at the exhibition and how it worked.
"We are very proud of how well our stand worked at the event. We had some interactive displays including a race car simulator, which has nothing to do with cranes, but it allowed people to have fun and talk to our team whilst waiting for a drive.
"Instead of showing the latest crane, we displayed a three plus year old TIDD PC28. It enabled us to display a 'real crane' that has worked over 6,000hrs and demonstrated the quality of TRT's design, engineering and manufacture and that TIDDs are built to last.
"The race simulator, and of course our quality OEM manufactured products including the TIDD PC28-2 which is coming soon, and our TRT ESS (Electronic Steering System) Platform trailers were all popular," said Neil.
TRT is very interactive with its clients and the conversations have been continual throughout the year, but Neil said it was great to see them and continue these conversations at the CICA event.
The race simulator, TRT's quality OEM manufactured products including the TIDD PC28-2 which is coming soon, and its TRT ESS (Electronic Steering System) Platform trailers, were all popular.
"I think there will be immediate results judging by the conversations we were having. We are developing our growing reputations as a quality OEM manufacturer and leader of industry innovation."
"Over the last 12 months we have invested in a team that has strengthened our ability to out serve our customers. When you are a TRT customer you become part of a family-owned business, which looks after their employees and customers like family," he said.
"TRT is a different proposition. We offer customers fit for purpose, bumper to bumper solutions, that are made to last. Complete packages from ground pressure solutions through to our TRT outrigger pads, equipment trailers which support the crane or any large trailer that will shift equipment or loads anywhere," said Neil.
"And of course, our very own manufactured TIDD Crane that is leading innovation and safety for pick and carry cranes in Australia. Our experience in manufacturing and supplying equipment also sees TRT as the Manitowoc and Grove Dealer for New Zealand and Queensland. TRT Is also a dealer and support agent for Kobelco crawler cranes throughout Oceania."
"The team at TRT were thrilled to be awarded with the most Outstanding Booth Award. We set out to have a visually compelling and interactive booth with some fun aspects and we achieved this with a team effort from our sales and marketing teams," he said.