The pick of the bunch: TRT's TIDD PC28
21 March 2023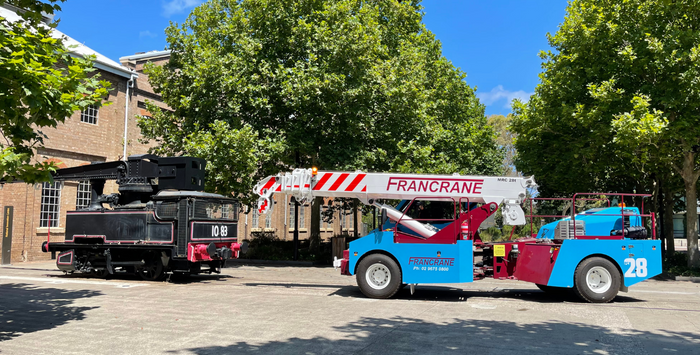 5 minute read from Roads & Infrastructure
Francrane Managing Director Brenton Owst-Atkinson explains what the TIDD PC28 brings to the business.
Western Sydney's Francrane has been providing crane hire, lift and shift, and transport solutions Sydney-wide for more than 30 years.
Managing Director Brenton Owst-Atkinson started the business in 1989, and has steadily developed its reputation as a trusted and versatile operation.
Operating 24/7 from its facility in Mt Druitt, Francrane services any customer requiring machinery lifted, transported, stored, or relocated – either interstate or overseas.
The family-owned business is powered by a team with more than 100 years' collective experience in the crane and transport industries, as well as an extensive partner network with the ability to offer cranes of any size to customers across Australia.
Owst-Atkinson says Francrane takes pride in its "we do what others don't" mentality.
"We don't shy away from helping anyone and never have," he says.
"Like our team, our fleet is versatile, and we work closely with our clients to provide them with the best available service – which hopefully ensures they continue to use our services, enabling continued investment in the fleet.
"This in turn ensures our fleet remains contemporary, and with all assets fully utilised."
Lifting performance
Francrane recently took delivery of a new TIDD PC28 pick and carry – the second TIDD to be supplied to the company by TRT Australia through its New South Wales dealer, The Baden Davis Crane Connection.
"We have been very impressed with the performance of the TIDD that we already have in the fleet," Owst-Atkinson says.
"It's a solid machine, made to a high specification in New Zealand and it has proven itself with us at Francrane. It has performed well, and it also travels on the road well and suits our type of work. We can't fault it," he says.
The TIDD PC28 features a range of improved operational features designed to boost efficiency and comfort, whether on construction sites or on the road. With an increased 28-tonne lift capacity, greater maneuverability, and a small footprint, the crane is designed to thrive in tight work areas.
The TIDD PC28 also offers a suite of safety features designed in consultation with the industry, including Dynamic LMI (load moment indication) with a deadlock switch inside the cabin and an LMI bridging switch outside, as well as improved visibility thanks to wide view top glass and optimised mirror placement.
The crane also features Slew Safe, a TRT-developed safety innovation exclusive to TIDD pick and carry cranes.
Slew Safe is designed to help operators to keep loads within the chart, minimising the risk of overloads or rollovers. With audible and visual alarms, LMI warnings, and power steering restriction, this allows operators to pick and carry with peace of mind.
Slew Safe comes standard on all new TIDD PC28-2 cranes, and can be retrofitted to all existing PC28s and PC25s.
The TIDD PC28 has also been designed for the operator, offering improved comfort and reduced fatigue, especially during long hours. The ergonomically designed forward-mounted ROPS cabin features a double-door configuration, ducted air conditioning, 150-kilogram-rated air suspension seats, and three-point safety belts.
Owst-Atkinson says these features combine to make the TIDD PC28 a perfect addition to the Francrane fleet.
"Our team likes the TIDD because it does exactly what they ask it to do – this seems to be the most common response from all our operators," he says.
"With the addition of the new TIDD PC28, we now have five pick and carries in the fleet with lifting capacities ranging from 10 to 28 tonnes. We also operate two crane trucks, plus a range of forklifts with jib with capacities ranging from three to 12 tonnes. These are supported by semis with a range of trailers."
To keep day-to-day operations running smoothly, Owst-Atkinson says it's critical that the support of Francrane's suppliers mirrors the level of support that he aims to provide his own customers.
"The Baden Davis Crane Connection is our local dealer, and they are there for anything we require. They are very customer-focused and willing to help if we are every in a bind," Owst-Atkinson says.
"The back-up support from both The Baden Davis Crane Connection and TRT has been fantastic."
For more information on our TIDD Crane click here or to speak to someone contact on 07 3890 8800.