Proven Track Record Good Reason for Second Kobelco Crawler
24 March 2023
5 minute read from Cranes & Lifting Magazine.
Boddington Hire has been operating a Kobelco CKE800 for the past 12 years out of Western Australia in some of the harshest environments. This understanding of the machine and its ability to stand up to the rigours of its work made the decision for Boddington's second crawler simple.
Boddington Hire specialises in the Dry hire of lifting equipment, from cranes through to material handling, including telehandlers, reach stackers and forklift trucks. Its crane fleet consists of Tadano rough terrains and a range of Frannas, a Kobelco CKE800 and brand new Kobelco CKS900.
Tom Hunter from Boddington Hire explains the company's background and its current focus for its dry hire.
"Our clients include many of the big tier one contractors and quite a number of the mining companies directly, both big and small. We also hire extensively to existing crane hire companies who utilise us for project work where our equipment is a great fit," Tom says.
Based in Western Australia with depots in both Rockingham and Karratha, Boddington serves the entire state and regularly sends equipment across the country particularly to the Northern Territory, South Australia and even north Queensland.
Tom says Boddington Hire works in dry hire, priding itself on finding solutions and sending equipment to remote and harsh environments.
"Recently we have sent equipment to areas in the remote Goldfields, Pilbara and Kimberley where you are a long way from support and downtime is not an option. We enjoy the challenge of putting our equipment and people to the test and keeping our clients happy no matter what the situation," he said.
These challenging environments meant Boddington needed to seriously consider what its next crawler crane would be that it brought on board to ensure it could stand up to every challenge, as Tom explains.
"The new crawler was in no means a blind purchase, having owned a similar Kobelco CKE800 for the past 12 years we had the benefit of a good test run," he said.
"The CKE800 has been a brilliant crane for us, the reliability of the machine is unbelievable, and you can truly send it anywhere without a worry. We were finding this crane was able to keep fairly busy and thus looking to update it was a fairly natural choice," Tom said.
The CKS900 is the newest addition to the Boddingtons Hire fleet and was a simple choice for the team when deciding which crawler to bring on.
The CKS900 comes with a Hino in line six that produces 213kW and is Euro stage three. It has full-flow hydraulic control system for infinitely variable pressure to all winches, propel and swing. The controls respond instantly to the touch, delivering smooth function operation for operators.
The CSK900 has a totally enclosed, full vision cab with safety glass, fully adjustable, high-backed seat with a headrest and armrests, and intermittent wiper and window washer (skylight and front window).
The crane has a steel-welded carbody with axles and the crawler assemblies can be hydraulically extended for wide-track operation or retracted for transportation.
Crawler belt tension is maintained by hydraulic jack force on the track-adjusting bearing block. The crane boom has a main boom length of 61 metres and with a fixed jib can be extended out to 70.1 metres.
For Boddington, whilst the crane provided an excellent step up in capacity the Kobelco brand being synonymous with reliability was a big reason to bring it on board.
"It was the reliability of the crane which comes from the top quality produced by Kobelco. "For us, reliability and quality coupled with back up support has to be the top consideration in purchasing any new equipment," Tom says.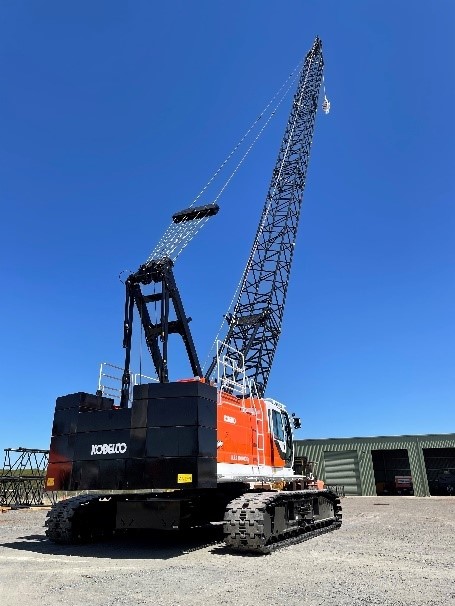 After running a Kobelco for 12 years the team was confident in its ability.
"I take a lot of feedback from our crane technicians and clients when choosing a new piece of equipment. Our techs love the simple design and ease of maintenance on the machine which is very important and, in the end, made the decision a simple one."
Tom explains why the company went for a crawler crane with a greater capacity.
"The small step up in capacity is just going to make it that little bit more capable on site for both lift capacity and reach. We purchased the crane with full main boom and full fly jib option.
"Larger capacity crawlers were considered, however we have become well known over the years for having this size of machine available and figure demand will still be strong.
"Some of our jobs also have restrictions on how heavy the machine can be, for example projects such as barge work and with this new model we are able to assemble it with reduced counterweight to give it an operating weight of even less than the CKE800 so it can still fill these specific jobs where required.
"It is also easily transportable with the tracks and boom base capable of remaining in place meaning it is still an economical machine to move around," Tom says.
The Kobelco has been put straight to work out completing a dry hire project in Perth since it was delivered to Boddington's Hire.
"I haven't been able to catch up with the operator using it on site to know how the crane has been so far, but for us in the dry hire game, no news is good news," Tom said.
The maintenance team at Boddington is excited by the new Kobelco and expects the work on it to be simple to complete.
"What our maintenance team found with the delivery of the new crane is it hasn't changed too significantly from the previous models which for us is a good thing as operators loved the simplicity and ease of use of the CKE800.
"While the new machine definitely has a few technological upgrades from the old crane, Kobelco have obviously been smart enough to not change what works," Tom says.
"From appearances though the quality and finish of the machine is obvious so I have no doubts it will handle the harsher jobs when they come about."
Tom and the team at Boddington have been very impressed by the service provided by the team at TRT throughout this experience.
"From the outset dealing with Troy at TRT has been great. It was a long journey from initial quote until purchase and we did kick around ideas for a bigger crane a number of times," Tom says.
"All through the process Troy was very responsive and very patient with my queries. He has a great knowledge of the cranes he is selling having worked with the Kobelco product for a long time.
"Handover was done by Tony from TRT and he was great showing our guys the ins and outs of the new machine. Like Troy, he is very knowledgeable on the cranes.
"TRT look committed to providing great ongoing service for the crane with not only their operations on the east coast but also its support through its service agents in Perth and the north west," Tom says.
For more information on the Kobelco Cranes click here or to speak to someone contact on 07 849 4839.