New TIDD Crane Dealer Appointed in South Australia
18 February 2021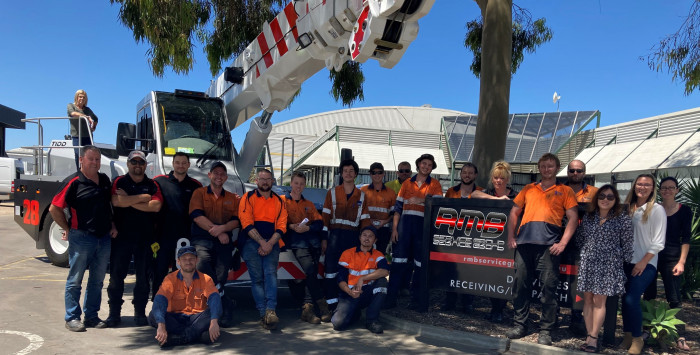 Tidd Ross Todd Limited (TRT) has appointed Routleff Motor Bodies Pty Ltd (RMB Service Group) as the new TIDD Crane dealer for South Australia. This became effective in early February 2021. RMB Service Group will stock and sell the TIDD PC28 Crane, manage service and stock and supply genuine parts to existing and new customers in the State, maintaining TIDD Crane's Australia wide support network.
"TRT are pleased to officially renew our long association with owners Cheryl and Myles Woodhart and the team at RMB, with their appointment as the newest TIDD Crane Dealer in Australia," said Bruce Carden, TRT's director of sales and innovation. "Along with the recent appointment of Ronco in Western Australia and our long-standing TIDD and Kobelco dealer, Crane Connection, in NSW, this supports the continued growth of the TIDD Crane, especially with the high levels of product adoption in South Australia."
Cheryl Woodhart, managing director of RMB Services Group confirms "Since the conception of the TIDD PC25, RMB Service Group have always been committed to TRT and maintaining their products throughout the entire South Australian network.
Today we embark on a new chapter in our long-standing relationship to reignite that partnership once again, as the TIDD Crane sales and service agents for the South Australian region. The new TIDD PC28 product is fast becoming the preferred Pick and Cary Crane in the Australian market with its advanced safety technology and features, and we look forward to supplying and servicing a quality product to our clients."
Based in Adelaide, RMB Services are already sales and service agents for world-leading brands such as Bronto, Maeda, Shuttlelift and Tadano. They employ factory trained crane technicians, heavy vehicle mechanics, fabricators, spray painters and electricians. They have a growing sales and support team providing clients, and now TIDD Crane customers with 24/7 technical support.
Carden adds, "Aligning TIDD Cranes with another well-known industry provider that has extensive experience with Pick and Carry cranes, and even our own TIDD PC25, is important for TIDD owners and operators across the country. RMB Services Group has a strong reputation with other OEM suppliers and a proven standard of after-sales support and service. We know this is the right decision for our customers and we are looking forward to working closely together."
TRT launched the first TIDD Crane prototype in 2012, the TIDD PC25. After extensive industry and expert consultation, TRT launched the TIDD PC28 in May 2019. With the new safety innovations, the TIDD Crane is providing operators with greater opportunities on sites that had previously restricted pick and carry crane activity due to safety risk. TRT are now one of the only crane manufacturers left in Australasia and the only road vehicle manufacturer in New Zealand.