New Crane Sales Engineer for TRT – Jordin Hutchinson
26 May 2023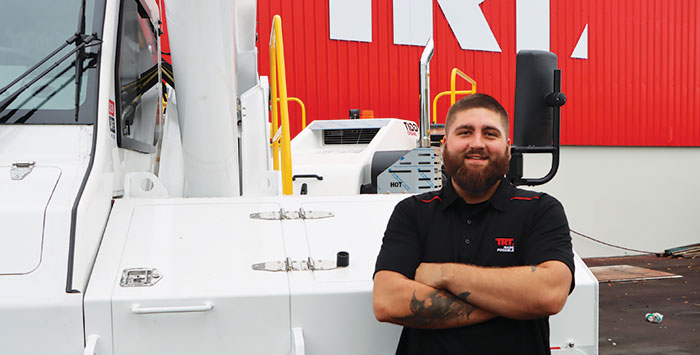 TRT (Tidd Ross Todd Limited) is pleased to announce the internal promotion of Jordin Hutchinson to the position of Crane Sales Engineer, effective from the 1st of May 2023.
Jordin's career in the crane and heavy lift industry began in the Bay of Plenty, New Zealand, working as a Crane Technician at McLeod Cranes, Hiab's, and Transport for five years upon successfully completing his apprenticeship. His talent and dedication soon caught the attention of TRT, leading to an offer to join their crane service team in the Waikato. Jordin has been a valuable and highly skilled TRT Crane Technician for over two years.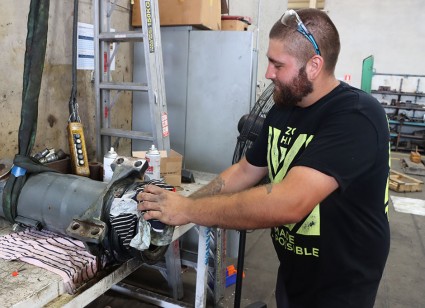 In his new role, Jordin will continue to progress TRT's commitments and support their capabilities by providing solutions and ongoing support to their customers. Jordin is responsible for driving crane sales throughout New Zealand for the TIDD Pick and Carry Crane along with TRT's national distributorship for Cargotec's Hiab products, Kobelco Crawlers, and the complete stable of Manitowoc products including Manitowoc Crawler Cranes, Grove All-Terrain and Rough Terrain Cranes, and Potain Tower Cranes.
TRT's Director of Innovation and Sales, Bruce Carden says, "Since joining the team at TRT Jordin has demonstrated notable success and commitment in embracing new challenges and delivering valuable results in our crane service division."
Bruce continues, "It's important we have the right person in this role to deliver our ongoing commitment and promise to our customers. Jordin is highly respected in the industry and already well-adapted to the ins and outs of our business and is excited to enhance customer experiences from a fresh perspective. His profound interest in the heavy haulage and lift industry and his innate passion for problem-solving have been instrumental in his success."
"We have taken a new direction in our important appointment for sales staff at TRT. When customers are placing an order for a large piece of capital plant involving large sums of money it's important, they feel confident with the person they are placing their trust in. Having the right person with the technical skills and knowledge will provide that trust. I saw in Jordin an individual coming through TRT that could provide that trust."
Reflecting on his new role, Jordin expressed his excitement about the opportunities it presents, "I am thrilled to accept this new position as it allows me to grow professionally and contribute to our customer's success in a different capacity."
"One aspect that I have truly enjoyed whilst working at TRT is the strong moral culture that underpins the company. I am extremely grateful to work in a business that rewards hard work and dedication values their employees, and makes room to advance professionally within the company."
"The TRT team is exceptional in every way. Everyone is approachable, friendly, and possesses a wealth of knowledge gained through years of experience."
"I have extensive knowledge across various crane brands, including our competitors. I have always had a passion for the quality and reliability of Manitowoc, Kobelco, and Hiab."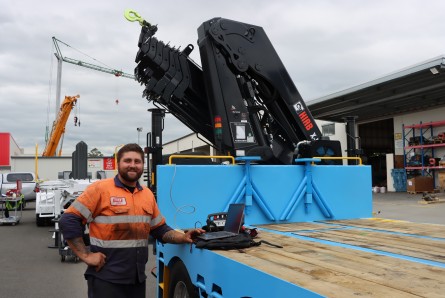 "I am excited to represent not only world-leading and reputable products through our distributor reputation but also TRT's competitive ethos of continuous improvement. I have seen first-hand the reputation TRT has gained in the industry from 2011 when TRT first began designing and manufacturing the world's safest Pick and Carry Crane. Leading to the development of the TIDD PC28-2 which was launched to the market earlier this year. It's extremely motivating to be part of a team who continuously focuses on new innovations to actively exceed expectations for their customers."
"TRT's commitment to engineering excellence and innovative solutions truly sets them apart in the industry. I've been consistently impressed with the quality and durability of our products."
"TRT offers a full end-to-end solution with our manufactured products, managing all processes in-house. From design engineering to the moment, we receive and cut high-grade tensile steel with our plasma technology to our bending and press capabilities, where we manufacture all the booms, chassis, rear bodies, and everything else. All the major components are built in-house before going through to paint and our skillful team in final assembly."
"Since the TIDD Crane first launched TRT has always continued its commitment to outthinking new innovations to solve problems for our customers. It's an honor to represent not only reliable and quality products through TRT's distributor solutions but also the exceptional OEM brands here at TRT. I take immense pride in satisfying our customers' needs by delivering high-quality solutions and TRT manufacturers and supplies the products that enable me to deliver this to our customers."
TRT's General Manager (GM) of Capital Whole Goods, Glen Harnett says, "Jordin has a real passion for cranes which bodes well in his transition from crane service to TRT Crane Sales Engineer. His experience in the crane service team aligns well with TRT's vision to support our customers for the entire life of their capital whole goods. Product knowledge is very important when providing customers with lifting solutions. His heavy equipment background and great understanding of our products positions us to provide the right solutions with the right product to our customers. We are excited to have Jordin on our sales team and look forward to supporting him in his new role."
If you would like to contact Jordin regarding any crane enquiries, you can call him at 021 241 6205 or send him an email at jordinh@trt.co.nz