Borger Cranes Acquire New Kobelco Crawler Cranes Through Australian Kobelco Dealer Baden Davis Crane Connection
14 November 2023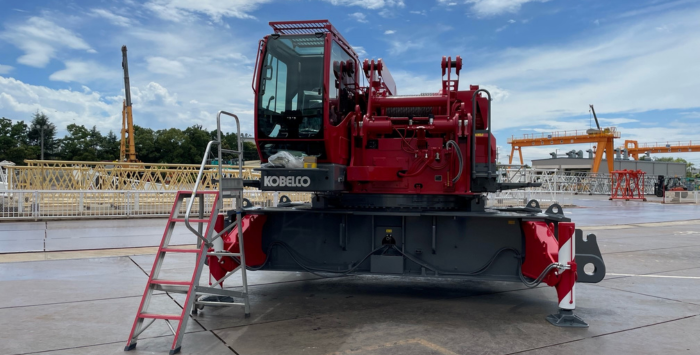 5 minute read from Cranes & Lifting.
Borger Crane Hire and Rigging Services recently took delivery of the first of six Kobelco lattice boom crawler cranes from Australian Kobelco dealer, Baden Davis Crane Connection. The new cranes include four Kobelco CKS2500s – 250t capacity crawlers and two CKE1800s – 180t capacity crawlers.
Shawn Borger, General Manager at Borger Crane Hire, provides some background to the purchases.
"As our business grows, we are working more closely with all our clients, particularly the Tier One builders, and we are increasingly involved in the major infrastructure projects in Sydney and Brisbane. These new Kobelcos are ideal for projects like the Sydney Gateway, Sydney Metro Tunnelling, and the Western Sydney Airport Station works. They will increase our ability to supply complete crane packages, providing our clients with the ability to program their work more effectively.
"The Kobelco brand has always impressed our organisation. Their cranes are well designed and include traditional Japanese engineering values which lead to a robust crane well suited to Australian conditions," said Shawn.
The CKS2500 has a maximum lifting capacity of 250t and a long boom length of 91.4m. This model is part of the S series from Kobelco. The S series consists of crawler cranes with lifting capacities ranging from 60t 250t.
The S series was designed, upgraded, and improved for the customer with safety, reliability, and efficiency in mind.
The design of the CKS2500 is based on end-user feedback and real job site experiences. The design makes the model "transportation friendly," "assembly friendly" and "operator friendly." All are essential to fulfill the satisfaction of owners and operators. New features of Kobelco's S Series are consistent with these key concepts.
New hydraulic circuit
The new models can be adapted for both bucket and lifting applications. The hydraulic circuit can be set to dual-pump flow or single-pump flow so that the circuit can be perfectly adequate for both applications. The newly designed circuit can be switched to choose the best circuit for the job application.
Operator support system & comfortable operator cabin
Available as an option, the new counterweight amount detection device always tells the correct amount of the counterweight. The swing angle detection device prevents over-swinging, and the ground level sensor prevents operations on uneven ground.
Machine status is displayed on a new wide monitor in the cabin, now newly redesigned for comfortable operation.
Vertical cylinders for counterweight self-installation (80 tons to 110 tons *)
The new models have an improved counterweight self-installation mechanism. Counterweights can be stacked up on the ground and installed on the machine by vertical cylinders. Safety and work efficiency have been greatly improved. (* Counterweights of 80 tons and 90 tons are optional specifications.)
The Kobelco CKE1800 features a maximum lifting capacity of 180t and a maximum boom length of 85.3m.
The crawler is powered by a Hino diesel engine P11C-UN, a water-cooled, direct fuel injection model, equipped with a turbocharger and compliant with NRMM (Europe) Tier III and USA EPA Tier III standards.
Four variable displacement piston pumps are driven by heavy-duty pump drive. Two are used in the main hook hoist circuit, auxiliary hook hoist circuit, third hoist circuit and each propel circuit. One of the other two pumps is used in the boom hoist circuit, and the other is used in the swing circuit.
The Kobelco CKE offers a full-flow hydraulic control system for infinitely variable pressure to the front and rear drums, boom hoist brakes, and clutches. Controls respond instantly to the touch, delivering smooth function operation.
The boom hoist system is powered by a hydraulic motor through a planetary reducer and the brake is a spring-set, hydraulically released multiple-disc brake which is mounted on the boom hoist motor and operated through a counter-balance valve. The load hoist system features front and rear drums for load hoists powered by hydraulic variable plunger motors, driven through planetary reducers. A spring-set, hydraulically released multiple-disc brake is mounted on the hoist motor and operated with a counter-balance valve.
The Swing system is powered by hydraulic motor driving spur gears through two sets of planetary reducers and the swing system provides 360-degree rotation.
The upper structure features a torsion-free precision machined upper frame. All components are located clearly and service-friendly.
The full-vision cab features safety glass, a fully adjustable, high-backed seat with a head-rest and armrests, an intermittent wiper and window washer (skylight and front window) as well as four adjustable levers for front drum, rear drum, boom drum, and swing controls, and a boom hoist pedal.
The lower structure is a steel-welded car body with axles. Crawler assemblies are designed with a quick disconnect feature for individual removal as a unit from the axles. Crawler belt tension is maintained by hydraulic jack force on the track-adjusting bearing block. The car's body weight is 20t.
Independent hydraulic propel drive is built into each crawler side frame. Each drive consists of a hydraulic motor propelling a driving tumbler through a planetary gearbox. Hydraulic motor and gearbox are built into the crawler side frame within the shoe width and spring-set, and hydraulically released parking brakes are built into each propel drive. A hydraulic propel system provides both skid steering (driving one track only) and counter-rotating steering (driving each track in opposite directions). The track rollers are sealed track rollers for maintenance-free operation.
Borger Crane Hire and Rigging Services continues to invest in the fleet, says Shawn.
"Our continued investment in today's crane technology is critical to our business. By investing in the latest technology, we are able to provide our clients with a complete package of cranage options. From our latest large capacity acquisition, the Liebherr LG 1750, to these new Kobelcos, we have the solution whatever the application. We see this as critical for our clients.
"We also invest in the latest and safest cranes for the benefit of our employees. Our operators and operational crews love the new equipment and always look after the gear as if it were their own. Our investment strategy also helps to attract new staff and retain existing crews. With the new technology, our crews are confident of completing the task safely because new equipment minimises breakdowns, eliminating the frustrations of not finishing the job on time. Wherever possible, our crews take pride in delivering our projects on time and in full," said Shawn.
Borger Crane Hire and The Baden Davis Crane Connection have a long and rich relationship which is based on much more than business, says Shawn.
"The Borgers and Badens have had a friendship for over 20 years. It dates back to 2000 when we purchased our first 80t Liebherr through Anthony. Since then, we have gone on to purchase many more cranes and we always have our repairs completed by Ben Baden and his team.
"Ben and Anthony are extremely knowledgeable, what they don't know about cranes isn't worth knowing. It's always reassuring when you buy a crane, you know the support and backup are going to be there.
"We know this will absolutely be the case with the Baden Davis Crane Connection and TRT Australia supporting the Kobelco product," said Shawn.