Avopiling; Huge Investment in the Reliability of Kobelco
28 July 2022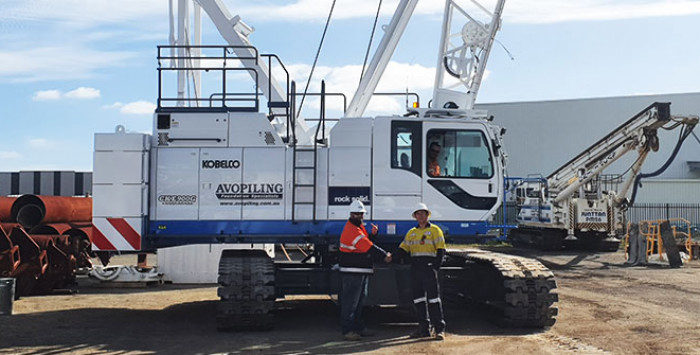 Piling and foundation specialist, Avopiling, recently took delivery of their new Kobelco CKE1100G-2 and CKE 900G-2, with another four scheduled to be delivered over the coming months.
In 1989 Avopiling was established by its current owner and Managing Director, Avo Tevanian, a B.Tech Civil Engineer with over 48 years of diverse experience in the field of piling and ground engineering. Today the company is now considered to be a market leader in the piling industry, effectively achieving the confidence of its strong clientele by delivering engineering excellence with its people and state of the art reliable equipment.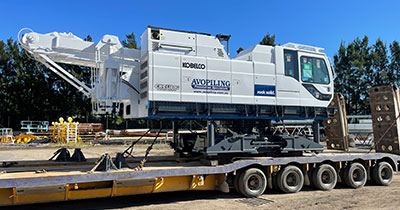 Avopiling's main workshop facility is based in New South Wales, consisting of two workshops. One for the fabrication of their drilling tools and required ancillary plant and equipment. Workshop two is utilised for servicing and maintenance. Both workshop facilities are fully equipped with gantry cranes with high headroom to facilitate their maintenance requirements.
They also have workshop facilities that are attached to their office facilities based in Queensland and Western Australia. These facilities provide major maintenance and service support for its on-site crews. More recently a Victorian Branch has now been established where they will start work down in Melbourne on a major piece of road infrastructure.
With a strong focus on capabilities and the growing demand of its clients, Avopiling expressed it was time to invest in six Kobelco Crawler Cranes to increase their flexibility to manage and deliver.
David Tevanian, Group General Manager confirms, "We have an extremely large fleet of piling equipment which services the business right across the nation. We can deliver anything from diaphragm wall, large diameter bored piles, continuous flight auger, driven piles and ground improvement works.
With its ongoing and more recent investment in piling and foundation equipment Avopiling is capable of delivering large and deep bored foundation piles and shafts. Their fleet also holds all the ancillary equipment that is required on site for everyday operations.
"It's encouraging to see such a high level of demand from our clients and the projects we are working on. We believe the best decision for us was to move away from relying on having to rent some of the equipment externally. We already have ten crawler cranes in our fleet. With the lifts getting more and more complex and the demand only increasing investing in the right equipment we can rely on whenever we need it just seemed like a no-brainer."
Kobelco continues to lead the way in its lattice boom crawler design. Economic and efficient crane setup and breakdown for transport have been a real focus. Features like the nested boom improve overall safety and can also reduce costs in both transport and storage. It is equipped with functions to conserve energy and reduce fuel consumption, with better visibility and mobility for the operator.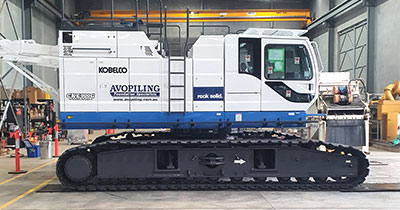 Tevanian explains, "I'm a big fan of the Kobelco range, they are the ideal solution for the type of work we carry out, and the reliability on these cranes is fantastic. I've operated them myself for many years, they offer outstanding performance in tough conditions. Reliability, and ease of operation would be the two main drivers that influenced our decision to invest in Kobelco."
"The required lifts are getting heavier. A three or four-tonne lift was normal, then a 15-tonne become quite regular. Next thing is 40 and 50-tonne scale lifts were becoming more sought after and now we can rely on Kobelco to do this work for us."
"Avopiling has everything from 50-tonne to 100-tonne capacity crawler cranes. We purchased four different models with six cranes being delivered in total. Two, CKE 1100G-2, one CKE 900G-2, one CKE 1350G-2, and two CKE 2500G-2."
"The first crane, a Kobelco CKE1100G-2 has been delivered and assembled. It wasn't long before we had the crane working and we quickly saw the value the crane had for us."
"Troy Hand from TRT was easy and honest and a pleasure to deal with the whole way through, the customer support from him cannot be faulted."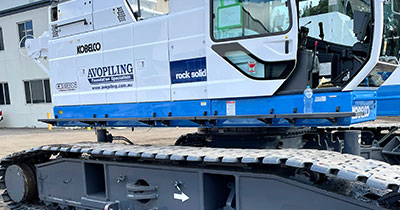 "The process and approach the team had at TRT Australia was exceptional. We are pleased to have established this relationship with them, every Kobelco crane is going to be a terrific addition to our fleet."
Troy Hand, TRT Australia's Crane Sales Specialist worked alongside Avo and David Tevanian throughout the entire process, from factory dates, through shipping, and to the progression of Australian commission and compliance.
Hand says, "Working with Avopiling has been an absolute pleasure from the initial online meetings to meeting in person, it was just awesome. I'm proud to be part of TRT where we have the ability to deliver high-quality world-class products with a sales, service, and parts network team that can offer ongoing support to keep our customers operating."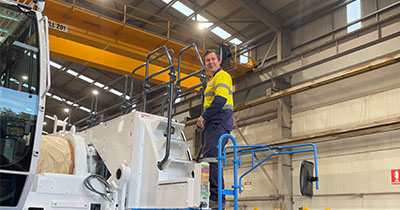 "The team from Avopiling have an excellent reputation in the market. We are thrilled to have provided them with a solid solution to expand their opportunities within the business. Nothing but signs of good times ahead for Avopiling and I am thrilled TRT and Kobelco are part of it"
For more information on Avopiling you can visit their website www.avopiling.com.au