TRT Expands South Island Operations ... Again!
31 May 2019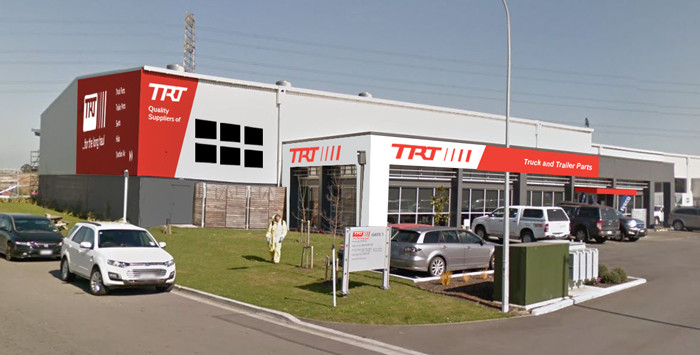 On June 4th, 2019 Tidd Ross Todd Limited (TRT) move into their new, larger premises at 6 Brydone Road, Hornby, Christchurch. This move and expansion comes 10 months after the first TRT Branch in Christchurch was established to better service its South Island customer base.
The new location extends TRT's capacity and capability to service their growing network of customers in the South Island. "As a 100% NZ owned business, we are excited to continue to deliver the TRT standard of service and expand our product offering in the South Island. It is an integral part of TRT's strategic growth plan. We have also recruited another six parts experts and warehouse staff locally to make this possible," says Gavin Halley, TRT's National Sales Manager.
The new, larger warehouse facilities will enable TRT to carry a greater variety of truck and trailer parts locally. TRT Christchurch's branch manager, Ed Foster adds, "for example, TRT already stock the most new and remanned transmissions in NZ, so this expansion of our warehousing will enable us to have greater stock levels for the South Island making sure customers have the application they need, when they need it."
With TRT becoming HIAB's New Zealand distributors in November 2018, the additional warehousing also allows greater stock levels of parts and equipment for the Hiab® range of products, including HIAB truck loader cranes, Zepro tail lifts, Jonsered log cranes, Multilift, and Moffett truck mounted forklifts. This increased stock availability will continue to support TRT's expanding HIAB sales and service network across the country.
While the initial focus will be to support customers and service networks, TRT will look to expand the number of products and services offered. Over the coming months, TRT will increase expertise across the South Island. This expansion will also include the development of South Island based service and installation of truck and machinery seating solutions and the installation of Traction Air® CTI on the new site.
The move to larger premises is in conjunction with MC Transport Repairs Ltd (MCTR), who have relocated their operations, purchasing the NZ Trucks Brydone Road workshops, and expanding their operations to 48 mechanics and 25 workshop bays.
This is also an extension of the already successful relationship TRT has with MCTR and owners, Ross Graham, John Mason and Sheldon Close. TRT will directly supply all parts for this new service operation.
The IVECO® representation at the Brydone Road site remains, with TRT and MCTR being focused on their specific workshop and parts functions respectively, to bring new levels of IVECO service to the Canterbury region.
TRT's manufacturing facility and Head Office is in Hamilton and has two additional truck and trailer parts branches and warehouse facilities in Hamilton and Auckland. TRT are backed by a team of experts, in-house and on the road, NZ wide.
---
---