How to Choose the Right Hiab Crane
7 October 2019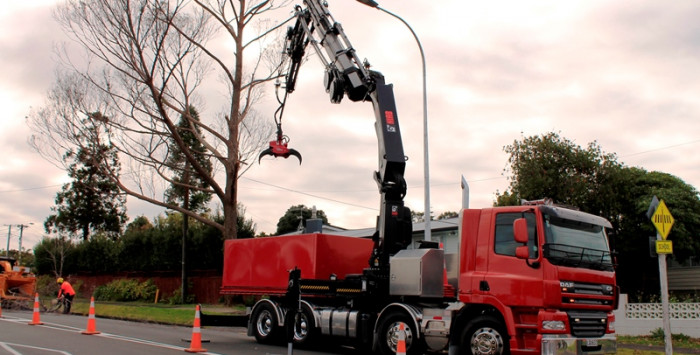 Selecting the right HIAB truck loader crane for both your current operation and for future opportunities is critical. Our team of experts has put together a simple list of considerations that you will find helpful in the initial stages of the Hiab crane product selection process.
"No one ever tells us 'my crane is too powerful'"
- Neil Annan - TRT Hiab Crane Sales
When looking for a new HIAB, You will need to look for capacity and capability that will suit both current operations and any future plans you have. They can give outstanding flexibility when you get the right truck loader crane.
What type of loads you will move and how heavy they will be? This is the first step in determining the basic crane capacity you need. You will not be concerned if your crane capacity is larger, but if it is too small it can impact your operations.
Reach is the second step to work out basic capacity. The further away you will work from your truck, the larger the crane you will require to handle the weight.
Get the right boom. For example, if you want to perform heavy lifts, but always near your truck, a short-boom EP crane will give you greater capacity for less. If you need to cover your load but want to avoid detaching the tool between jobs, you will want a Z-boom that folds up.
Do you need Manual or remote control? Manual control is economical and suited to many jobs. However, remote control provides greater flexibility, safety and visibility of the load.
Select the right control system. The more advanced the control system, the more complex tasks a crane can perform, and in the hands of an expert operator, it can save considerable amounts of time, energy and fuel.
Do you need extra speed, stability or capacity? How much will loads vary? Consider other attachments and features you need to get the job done, from pallet forks, log or recycling grapples to augers. T

here are options that can give your HIAB crane additional stability, speed or capacity when you need it most.
If you are considering a HIAB truck loader crane for your fleet, our experts can work with you to determine the best capacity and configuration for your operation, even if you have an idea of what you are looking for. This will give you the confidence that you have not overlooked anything.
Read more about HIAB Cranes or get in touch with the team today.
If you have an existing HIAB Crane and are looking for service support, please view our list of Service Agents New Zealand wide.