A New Feature-Packed B Train for Hanes Engineering
21 April 2021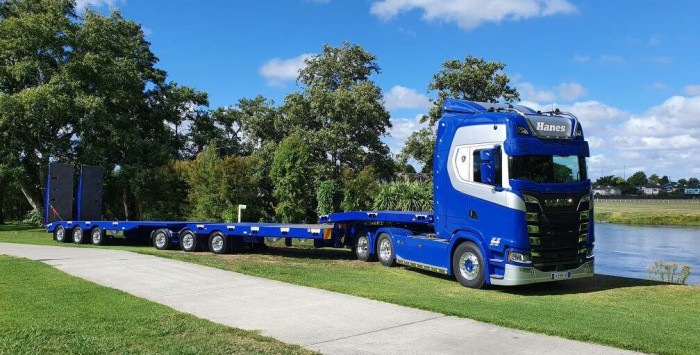 Adapted from TRT In Gear Magazine April 21 Issue.
TRT has custom-manufactured a second six-axle B Train Low Loader Combo for Hanes Engineering Co, packed with tailor-made features. Delivered in early February, the new trailer allows Hanes to efficiently transport plant and equipment including forklifts, excavators, and other heavy machinery.
The trailer has several customised features. A sliding turntable allows easy loading from the 8.34 metre-long B trailer to the 9.6 metre-long A trailer, and a hydraulic ramp to the top deck further assists with fast loading. The trailer also has ROR17.5 Drum-braked 10 stud axles with an EBS braking system, and ROR Air Suspension.
Both B trains were designed in collaboration with Simon Hanes to transport tall machinery like forklifts throughout New Zealand; legally, safely and easily. This meant the trailer decks needed to be as low as possible, with provision made to enable loading from the rear trailer to the front trailer without disconnecting. This has been achieved via a sliding fifth wheel that is air operated from the cab. The design features very low loading angles to suit low-to-ground machines. It has 4mm 1450mps decking made with Hardox® steel to suit solid forklift tyres. The trailer is 980mm high over the main deck and 2.5 meters wide.
The first B train TRT built for Hanes was delivered in September 2018. The reliability, ease-of loading and fit-for-purpose design prompted Hanes to commission a second TRT B train, with some updated design elements. These included customised lights compared with the first trailer, larger ramps to minimise the gap between ramps, non-skid safety surfaces and cold grip areas on the trailers to assist with loading.
This latest B train addition to the Hanes fleet is pulled by a Scania 620S tractor unit, supplied by Scania New Zealand. With a number of personal Hanes family details on the livery (pictured), it is powered by a DC16 115 Euro 5 engine with a V8 capacity of 16.4 litres. It has a rear axle ratio of 3.07:1 and 620hp at 1900rpm.
Hanes has been a customer of TRT's for the long haul. Their workshop is supported by the TRT parts team and they have several TRT-manufactured trailers in their fleet. Along with the two B Trains, they also have a five-axle transporter, and a quad (4x4) low loader.
Hanes has been in the forklift and general machinery business for over 62 years. They transport machinery New Zealand-wide, and supply and service a wide range of forklifts and material handling equipment. They also carry out specialist repairs of components, engines, transmissions, differentials and mast overhauls. You can learn more here: www.hanes.co.nz
Specs:
The B train consists of 2 trailers The A trailer and B trailer.
Deck Length: A = 9.6m, B=8.34m

Height: 980mm over main deck

Width: 2.5m

Decking: 4mm 1450mps Hardox

®

steel and suitable for solid forklift tyres

5th Wheel: Jost JSK37

Ramps: grade 80 high tensile steel 1.05m x 2.8m per ramp
Features
Sliding turntable, to allow loading from the B trailer to the A trailer.

Hydraulic "full deck ramp" for fast loading to the top deck.

ROR17.5 Drum braked 10 stud axles with EBS braking system

ROR Air Suspension
Truck specs
Engine: DC16 115 Euro 5

Capacity: V8 16.4-litres

Power: 620hp (456 kW) at 1900rpm

Torque: 3000Nm at 950 to 1400rpm

Gearbox: GRSO905R overdrive 12-speed +2 crawler gears

Rear axle ratio: 3.07:1

Suspension: Steel parabolic leaf (front), 2-spring air (rear)

Fuel tanks: 320-litres (r), 710-litres (l), 105-litres (Adblue)